The new year is well and truly underway. After spending most of the fall recovering from and reflecting upon the 2017 season, I had some time to begin to plan my training, race program, and begin to set goals for 2018 before heading to camp.
2017 was a year I'm proud of. I've found a stable and happy home at UnitedHealthcare Pro Cycling that's provided me the platform for consistent performance. My consistency in Pro Road Tour (PRT) races from March through August netted me the overall PRT title.
My major disappointment from last season stems from not winning any stages or GC titles and that's where my goals and motivation lay for 2018. With that being said, my training approach and build up remains similar for 2018.
My first key period of the season begins in late April with the Tour of the Gila and continues with Redlands, and hopefully the Amgen Tour of California. I was able to go into training camp fairly relaxed but fresh and motivated to start putting in the hard work to turn those dreams into a reality.
In mid-January I set out for training camp with UnitedHealthcare Pro Cycling just outside Medellin, Colombia. "Why Colombia?" A lot of people ask. "Wouldn't it make more sense for an American team to have training camp in Arizona or California like most other teams?"
Before heading there for camp last year I had similar questions. South America poses international travel, potential traffic hazards while training, and an increased risk for food-related illnesses.
That said, Medellin is the perfect location for training camp for a few reasons. Travel from the U.S. is fairly straightforward, being only three hours from Miami and on the Eastern Standard Time Zone.
Weather is consistent year round and mostly between 70 and 85 degrees Fahrenheit. Terrain is ideal, with a balance of rolling, flat, and mountainous terrain to choose from. Altitude is also a key factor; our hotel was situated at 7,200 feet with most training occurring between 4,000 and 9,000 feet. With the focus of this camp being primarily aerobic base training the adaptations that occur from doing this at altitude are much greater than at sea level.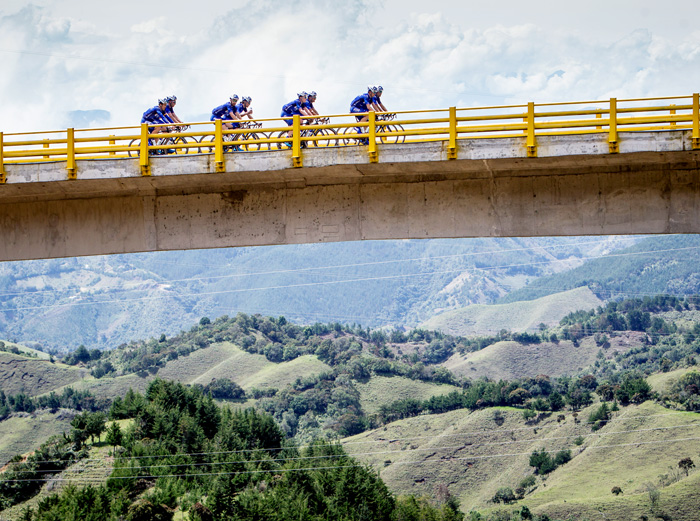 We're also able to take over an entire family-owned, small hotel and have a team of Colombian women prepare all of our meals for the entire three week camp. There's a feeling of comfort and homeliness that would be difficult to replicate at a U.S. hotel.
That said, we spend most of our days out on the roads and not in the hotel! Here are some examples of how much mileage and effort goes into an early season training camp like ours:
When I was getting packed up to head south for a month my girlfriend asked me what I was looking forward to most, to which I responded "Doing nothing." What I really meant was doing one thing, and doing it to the best of my ability.
That's really the beauty of a training camp, the total focus on training for a defined period of time. Some people think that professional cyclists train like this all the time but that's not exactly accurate.Training at home has to be more sustainable.
A pro cyclist needs balance all other aspects of life: family, significant others, pets, and maintaining a social life off the bike. The idea of a training camp is something that athletes of any ability can really take advantage of.
Whether it's a long weekend or a 10-day vacation to the Alps, the practice of doing an intense, focused block of training that you couldn't or wouldn't do normally can have huge benefits. The fact that you know you only have to focus solely on your training for a specific period of time allows you to push harder because you know you'll have time to rest and recover on the other end of the block.
Routine is an important part of any athletes life. Good routines lead to good habits. which are the cornerstones of consistent training and good recovery. Our routine at camp was pretty dialed. We worked in three day blocks with one day of recovery before the next block.
Our training rides began promptly between 8:30 a.m. and 9:30 a.m., depending on the intended duration of the ride. The training blocks typically included two standard endurance rides of four to six hours, followed by a specific day where riders could do their own intervals or other focused work.
Here's an example of a typical long endurance day during camp. To go more in-depth, you can click on this image and get access directly to my power file for this ride:
Breakfast was typically 90 minutes before training, giving us enough time to digest and let the morning caffeine buzz kick-in. Having a follow car on long rides is a huge benefit, especially when temperatures and humidity are high. The immediate access to bottles, all the Honey Stinger products we could want, and whatever delicious treats the soigneurs whipped up that day makes six hours of riding a lot easier.
Perhaps, the nicest part of training camp life takes place once the training is over. After a quick shower and recovery shake, the team would meet for lunch. I don't know how our cooks managed it but each afternoon meal included a delicious soup, rice, and varying vegetable and meat option.
From there it was either time to lapse into a brief carb coma or hop on to the massage table. Afternoons were some of the nicest times at camp. The lack of internet made for ideal reading and hammock-laying time until dinner was served.
Beyond the physical benefits of a training camp, a big part of the reason for a team camp is to spend some time with your teammates off the bike. Almost every night of camp ended with a card game and stories from our Belgian Director Hendrik Redant. There was no shortage of laughter, even as fatigue set in and post-dinner cereal intake increased.
All in all training camp was a great start to 2018, and I think I speak for all my teammates when I say UnitedHealthcare Pro Cycling team is ready for a great season! Thanks for reading and stay tuned for more throughout the 2018 season.