Photo by Sebastian Miranda/Tri Bike Chile
On May 7, the pandemic-delayed IRONMAN World Championships will play out on the unrelenting terrain of St. George, Utah. The new venue, which hosted the 70.3 World event in 2021, boasts over 7500 feet of climbing — close to 1500 feet more than Kona. It also tops Kona's run vert by around 500 feet, clocking 1400 feet of gain. The weather is generally hot, with temperatures in May averaging a high of 86 and a low of 60. However, unlike the humid Hawaiian Islands, the desert air remains arid, with a May average of just one day of rain. This is the first time an IRONMAN World Championship race will happen somewhere other than Kona.
The buzz of the lead-up to this global event is palpable. Haley Chura, a seasoned professional who will toe the line in St. George, has good memories of her experience on the 70.3 course in the same location. "Kona is special, but St. George is also a spectacularly beautiful venue. Plus, the community there embraces the race so much." But, while she is excited to test herself against the best in the world on a new playing field, IRONMAN's August 2021 announcement of the new race date happened in the middle of her ongoing training for Kona.
Impacts of This Year's IRONMAN Worlds Race Date
"I had to change a little bit when the announcement came, but flexibility has been the name of the game for years," she said cheerily. Chura seamlessly switched gears and even earned an impressive podium spot at the August 29 Challenge Championship in Samorin, Slovakia. "After that, I took a break, which was earlier in the year than usual. Then I was hitting hard training over the winter to try to peak in May."
While Chura was able to shift her training to accommodate the new race schedule, adapting like this isn't necessarily straightforward. All IRONMAN competitors spend a long time preparing to race. For someone new to the distance, the time devoted to building an aerobic base, adequate muscular strength, and the skills necessary to swim 2.4 miles, ride 112 miles and run 26.2 miles can take a year or more.
Not to mention that racing in early May is very different than late October. Many athletes based in the Northern Hemisphere face demanding conditions when training through the winter months. Frozen lakes, icy roads, and minimal daylight are par for the course. Athletes often emerge in spring with less specific preparation and a lot of indoor volume that doesn't necessarily translate to race-specific skills.
To aim for a new peak, this year's IRONMAN athletes had to manipulate their training load and shift event-specific preparation, including developing muscular strength and endurance while building speed and skills for long climbs and ripping descents. In addition to heat adaptation protocols, the athletes also needed to get ready for the chilly turquoise waters of Sand Hollow Reservoir. Finally, competitors needed to aggregate mental toughness and psychological preparation in order to maximize race performance. Let's dive into how this year's elite triathletes approached their training.
Adapting Training Load for a Springtime Race
As mentioned previously, a race schedule change requires athletes to shift their training load in order to achieve peak fitness for their new race date. Measured as Chronic Training Load (CTL) or Fitness in TrainingPeaks, training load is the cumulative effect of training over time and can be viewed in your Performance Management Chart. An increase in CTL is generally a sign of increased fitness.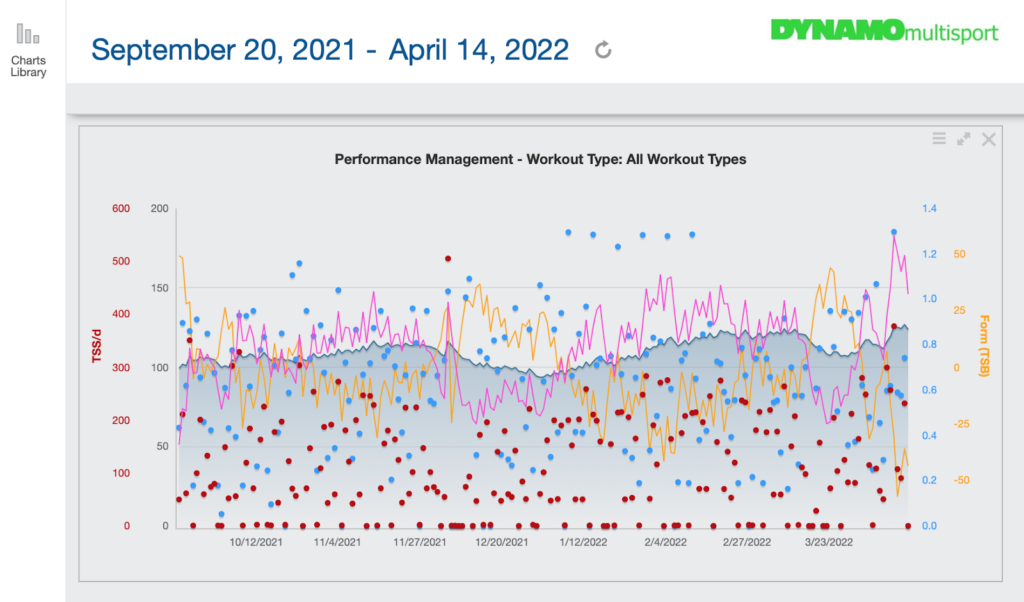 To ensure adequate race preparation, athletes (or their coaches) need to identify a race-specific, target CTL that their fitness should be building towards. According to TrainingPeaks metrics, the target CTL for a full-distance triathlon should range between 85 and 210. For pros or elite age-group athletes, that number is generally over 100 CTL. The chart below shows that Chura's CTL was well over 100 leading into the final weeks of training, indicating that she's well prepared for her upcoming IRONMAN.
Colin Cook, an amateur athlete and coach, is another athlete who used TrainingPeaks data to track his St. George training. Cook has 18 IRONMAN races on his resume including five in Kona. "I train year-round," said Cook. With an IRONMAN PR of 8:53, his training regimen is on par with professional triathletes.
In Cook's 365-day Performance Management Chart below, there is an obvious trending downward of CTL beginning around the time Kona was rescheduled. Like Chura, Cook inserted a break from the high load required for long course success. Notably, Cook's blue CTL line then climbed consistently to reach over 100 as he came into the final month of training.
The key differentiator between Cook and Chura's preparation is that Cook is a working parent with four children. "I don't have a lot of time, so I do many of my long rides at 4:15 am for four hours before work." Compared to Chura, Cook had a lot less time on the bike than he did on the run — a product of his limited time and winter weather constraints.
In TrainingPeaks, it's possible to separate each discipline to analyze load (as shown below, where Cook's running PMC shows a lot of growth starting in late winter).
Climate Considerations in St. George
In addition to training load, race preparation must include physiological preparation for race-day weather conditions. At St. George, that means desert heat and wind with a potentially cold swim.
"I know this swim caters to my strengths," explained Chura, who noted the swim course in St. George is one of her favorites. "It's usually in the low 60s, which for me is absolutely perfect for going hard in a wetsuit — you don't overheat or anything." In addition, she recently traveled to Tucson for a training camp to prepare for other climate factors. Tucson is similar to St. George in terms of climate and elevation, which helped prepare her physiologically to handle race day conditions.
Cook also took a recent training trip to Tucson to exercise in the dry heat — pushing his body to adapt to weather he hadn't experienced through a long New England winter. When traveling isn't an option, athletes will often institute other strategies to prepare for hot weather — including training in extra clothes or heated indoor spaces, and using saunas or heat chambers to acclimate.
Dealing with wind is a regular Kona feature but can also be a factor in the red canyons of Utah. "Some years have been really windy, but probably not Kona windy," observed Chura, "but you never know! I don't think we'll get the crosswind like we get in Kona."
Preparing for St. George's Climbing Terrain
While Kona doesn't have big terrain changes, St. George dishes significant climbs and descents. Chura's home turf has prepared her well. "I live in Montana, so the long, sustained climbs are kind of like Snow Canyon."
A big pro of the St. George course? It lacks technical terrain. "I think you can get prepared for this course even by doing some climbing on the trainer," agreed Chura. "It's not like you need specific bike handling skills. Most people who race an Ironman even on a time trial bike should be plenty comfortable." Cook is a case in point. He gets a significant amount of climbing using Zwift courses like the Uber Pretzel and combines that with winter fat biking on weekends.
Even the run will be challenging. The run course features some grinding, false flats, varying ascents, and flying descents. Being able to handle the cardiovascular demand of the climb needs to be matched with the muscular demands of the descents, a strength that is built up not only in bike and run training but also in the weight room. Cook uses the treadmill on dark, snowy mornings and gets additional outdoor running in when possible. Both athletes do some strength training to prepare as well.
Getting Mentally Tough for the Ultimate 140.6
After a few years of unpredictable race schedules and canceled World Championships, triathletes are excited to test their resolve and preparation on the rugged terrain of St. George. For Chura and Cook, dealing with harsh winter conditions helped them better prepare psychologically. Chura might have summed it up best when she said, "If it's really windy or really hot, it seems to bring out my best. There are athletes who race well in perfect conditions, but if we have a hard day, I think that will favor me."
One of her goals is a self-declared reach. "I've never run a sub-three-hour marathon off the bike, and I'm not sure a course with 1400 feet of climbing is the place to do it, so it depends on conditions." But, at the 2021 IRONMAN Coeur de' Alene, she cranked out a 3:05 marathon despite temps hovering around 100˚F.
"I love the run because it's where things can get really hard. It's where I'm like, if I can put together a good day and meet whatever challenges come my way, I could have a strong run," says Chura. "If I come across the finish line knowing that I did everything, there's no better feeling."