It was the first mile of the JFK 50, the oldest and most prestigious ultramarathon in the US…and Shana LeNeveu was already walking. As her training partner Julie Seydel ran by, Julie asked incredulously, "Already?"
Unbeknownst to most of her competitors, Shana wasn't walking out of fatigue. Having been diagnosed with severe asthma at the age of five, the petite, blonde mother of two has to monitor her heart rate closely and stay within the limits imposed by her coach, ultrarunning veteran Cindy Stonesmith of Louisville, Colo. This morning, Shana could tell her from her Garmin that her body wasn't ready yet. She slowed to a walk and let runner after runner pass her. "Julie must've thought, 'Girl, it is going to be a long day if you are walking already', but I knew I needed to slow down or I might not cross the finish line." Having trained faithfully by heart rate and pace for the past few years, in that moment Shana put her trust in her data and her coach. "I knew that this was what I needed to do right now. That's a big lesson – in running and in life – that you have to run your own race. That this is your own journey."
Shana ended up having a great race that day, running a 50-mile PR of 9:33. But this story is not about her race — it's about her journey.
Adventurous Spirit, Challenged Body
When Shana LeNeveu was growing up in Greeley, Colo., her doctors told her that she would never run. Asthma was still relatively rare at the time. "There were only two medications, and the doctors just kept increasing the dosages. It was just so much medication for this little body." The side effects increased as the medications did, and nausea and the shakes were a daily problem.
Despite her asthma, Shana had an adventurous spirit and even as a child she wanted to run. But even day to day activities posed a serious challenge. "I'd literally run the mile at school and then be home sick for two days. Once while walking home from school a severe asthma attack stopped me in my tracks. A neighbor had to call my Mom to pick me up. It was frustrating and scary for myself and my family."
Though she had to stay away from running, Shana stayed active as a young adult as an avid skier. By the mid-90s, thanks to excellent doctors and great improvements in asthma medications such as inhaled steroids, she was able to run-walk her first marathon in San Diego. Her time of 5:35 was nothing to write home about, but Shana had caught the running bug. In addition, she noticed something peculiar. Unlike most runners who are exhausted by the end of 26.2 miles, as she neared the finish line "I felt like I was just getting started," she remembers.
But, life happened and running took a backseat. Shana had two beautiful boys, Jack and Garrett. Concentrating on her career in human resources, raising her sons, and still managing her asthma, Shana struggled with being consistent in her training. Conditions like hay fever or common colds that'd be minor for a "normal" person would wreak havoc on her lungs, forcing her to resort to oral steroids with strong side effects. "I felt like I'd start [running] and have this passion and then just stop when life or my asthma kicked in," Shana said. It would be almost ten years before Shana ran another marathon again.
"My Plan was Basically Nothing"
In 2009, Shana committed to the New York Marathon, which she run-walked again at a time of 4:43. Though she was excited about the improvement, again Shana could not rid herself of the nagging feeling that she could do more. "Again, I had a great time, but when I finished it felt like I was just getting started. In the back of my head I felt like I didn't want it to be done — that I could do better and more, but I didn't really know how."
After the race, Shana's friend recommended her to a sports massage therapist named Cindy Stonesmith who also happened to be a runner herself. During her massage, Cindy and Shana chatted about Shana's training plan, "which was basically nothing," Shana laughs. Up to that point, Shana had relied on piecemealing together run-walk training plans she'd find online, printing out and trying to follow them when life allowed. "They were cookie-cutter plans, and I had no accountability."
Hearing all this, Cindy raised an eyebrow. She gently hinted, "You know, I am a coach as well." When the two started working together in December 2009, Cindy introduced Shana to TrainingPeaks, explaining that the online training log would be the primary way that she would get her daily workouts and upload her run files for Cindy to analyze. Her first time logging into TrainingPeaks, Shana looked at the plan and thought, "'There's no freaking way. She can't be serious.' I had never done tempo work or hill work. There's a hill near my house that I used to run with my friend, called the Aquarius hill. It was maybe 150-200 feet, and I thought I was doing hill work there. Cindy said, 'This is not a hill. This is a way to get to a hill.'"
Under Cindy's tutelage Shana found herself being pushed further than ever before, and the hard work began paying itself off. In their first six months together she set PR after PR in all different distances: a 2:02 half marathon in March 2010, 4:20 at the Big Sur marathon on her 40th birthday in April, a 1:53 half marathon in June, 4:02 at the Steamtown marathon in October. In May 2011 Shana broke the 4-hour marathon barrier, running a 3:47 Colorado Marathon — and unwittingly garnered herself a coveted Boston qualification.
Shana ran her first ultramarathon in June 2011, the Germini Adventure 12-hour Race of Laramie, Wy. Heading into it, Shana was "terrified. I went out really slow because that's what I have to do with my breathing…I felt amazing and was smiling most of the way. I was really well-trained for it. I had followed the plan and did all of my workouts on TrainingPeaks."
Well trained? You could say so. Shana won the women's race that day — in her first ultra, less than two years after running a 4:43 marathon.
Numbers and Passion
All along the way, Cindy and Shana's efforts have relied heavily upon the heart rate, pace and other data being uploaded and analyzed in TrainingPeaks. For Shana, the data was a huge confidence boost. "I asked Cindy to coach me because I liked her combination of using data and facts with passion – running with your heart. I had the passion, but I didn't have the knowledge, or the belief that I could do it."
"Getting the data for the first time and seeing that I was able to run my first sub-9:00 min mile, I was thrilled. I looked at that numbers and said 'Did I really do an 8:57? In the rain? With my shoe untied?"
"Having the data and a coach helped me to believe that I could do it. After my first ultra, I looked at that TrainingPeaks data every day for a month. Because without it I couldn't believe that I did it – like at mile 42, I was holding this pace still. The data for me was confidence building and empowering."
As for Cindy, data helps her to understand what her clients are capable of…even when they may not be aware themselves. Cindy says, "I'm not going to tell you you can do something unless I see it in the data. On the flip side, I will also tell them, 'I don't think you're quite ready, but we can get you there. We just need a longer time frame.' With Shana, I've always had to tell her, 'You're ready, I can see it.' That's how it is with most people – you have to give them the pep talk. The data helps to prove that."
Shana ran the Boston Marathon that year, but after Laramie in June 2011 it became clear that ultras would be where she would shine. Interestingly enough, Cindy notes, "Her asthma supports doing ultras because she doesn't go out too fast. Most people who are well trained go out too fast because they think their fitness allows it. With Shana though, it takes her lungs about 20 miles to open up. By 26 miles she's finally feeling warmed up and ready to run. Then her ability to maintain a pace later on in the race is phenomenal. She can often negative split or even split the whole race."
Analyzing Shana's heart rate and pace in TrainingPeaks, Cindy had a hunch from the beginning that Shana would do well at longer distances. "Even from her LT [lactate threshold] test right away I could tell that she had a lot more fitness that she had not tapped into and we could really capitalize on that. There was a lot of potential."
Race after race went by, including that JFK 50. "Every goal I achieved, I celebrated – because it was more than I thought I could do, ever," Shana said. Come August 2012, Shana would take on her biggest challenge yet: her first 100-miler, the Lean Horse 100 in South Dakota.
"Running is Healing"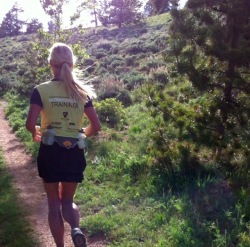 Shana's goal was to complete the punishing 100-mile course in 24 hours, but the day was cooler than expected and as the race progressed it became clear that she was exceeding the pacing strategy set by Cindy. However, she was within her target heart rate zones, so Shana ran on and targeted heart rate limits instead of pace.
She finished in 21 hours and 19 minutes, nearly 3 hours faster than expected. More importantly, she came in second woman overall — and set the seventh fastest course time by a woman in the race's history. Cindy, who had run the 50K earlier that day, paced her client in for the final 10 miles and the two crossed the line together. Only three years after she'd taken on the sweet, self-effacing woman who was running a 10:48-mile marathon at the time, she was pacing her across the finish the line of her first 100-miler — in second place.
These days, Shana derives reward from not only running her own races but also pacing other members of Cindy's close-knit trail running group in their own 50- and 100-mile quests. Though in the beginning Shana had to run despite her asthma, over time running has proven to be an unmatched form of therapy: "[Through running] I've reduced my medication in the past three years. I was taking oral steroids at least twice a year every year of my life from age 5 until 2010 [when I started training with Cindy and running consistently]. And now I'm off oral steroids."
"Consistency is the key for asthma," Shana goes on to explain. "I've always focused on controlling it – that's what the doctors always said. But for me what works better is consistency in my running. It's similar to training a weak muscle that you have to strengthen every day.
She flashes a warm smile. "Exercise is medicine. Running is healing. And it's a motivator when I remember how I used to feel. To be healthy and to have normal lungs is a gift that I'm willing to wake up early for each day. I'm thankful, and just taking it all in."
TrainingPeaks would like to thank Shana LeNeveu and Cindy Stonesmith for sharing their story. For more information about Cindy Stonesmith, visit www.ultrarunnertraining.com. This athlete story is part of our November "Dreaming Season" series. Read more about Dreaming Season here.