South African Jay Thomson raced the 2016 Milan Sanremo in support of Team Dimension Data for Qhubeka and teammate, Edvald Boasson Hagen. His pre-race designated role was to cover the early moves and to ride in support of the team to the base of the Capo Berto, 255km into the race.
After a fast start, Thomson averaged 312 watts, or 3.95W/kg, and 52.6kph for the first 20 minutes, a group of 11 riders broke clear. Those riders eventually built up a lead of over 10 minutes. Thomson then raced conservatively for the first 118km through to the base of the Passo del Turchino averaging 232 watts with a speed of 41.2kph.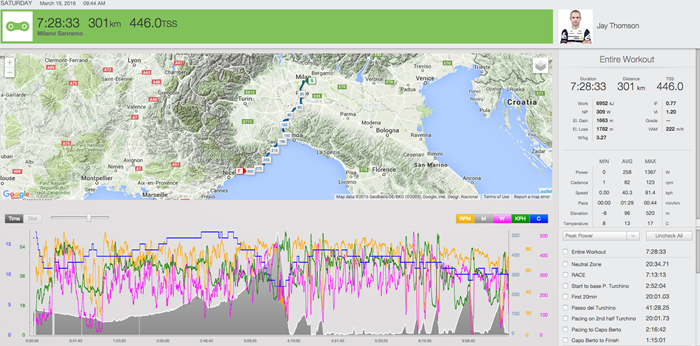 View Thomson's full power file here
On the second half of the Turchino he started pacing, achieving his 20 minute maximum power effort for the day of 372 watts, or 4.71W/kg. As the race hit the coastline, the peloton picked up the pace and Thomson actively contributed to chasing down the break. During this 2 hour and 17 minute effort over 101km, he averaged 289 watts with a Normalized Power® (NP®) of 332 watts.
At Capo Berto, Thomson handed over his team baton to Steve Cummings and company, who supported Boasson Hagen through the final climbs of the race.
Thomson finished the race in 174th place in a time of 7:13:52, satisfied with his contribution to the team and personal achievement of finishing this tough, historic monument for the first time.
Thomson's TrainingPeaks summary stats for 2016 Milano Sanremo:
Duration: 7:13:52
Distance: 294km
TSS: 437.6
Normalized Power: 312 watts
Average Power: 264 watts
Energy Expenditure: 6865 calories
Read the full Team Dimension Data for Qhubeka race report here