While athletes have been planning their season based on annual training hours since the 1950s, with tools like Training Stress Score and the Performance Management Chart, athletes can plan their seasons with more accuracy and success than ever before. Here is one example of how an athlete used TrainingPeaks tools to more effectively plan her training and reach a new performance level.
Michelle Leonard is an experienced category 3 cyclist who enjoys racing multi-day stage races, and for the last several seasons the Tour of the Gila has been her target event.
While Michelle was always prepared the for the demands of the race, her results had been a mixed bag—and definitely not what she aimed for after so much hard work year after year.
When TrainingPeaks introduced the ability to create an Annual Training Plan based on Training Stress Score, Michelle decided that it was time to take a new approach to her preparation for the Gila.
Setting a Goal
By looking at the Performance Manager over the last couple of seasons one thing jumped out that Michelle believed could be one of the reasons for the less than stellar performances in the past.
For each of her previous four attempts at the Gila, Michelle's Chronic Training Load (Fitness) didn't reach its peak until after the event.
A multi-day stage race places a premium on fitness, and she thought that by targeting a peak CTL leading into the first day of the event, she would have the fitness required to compete at a higher level overall.
By consulting the TSS Guidelines in the TrainingPeaks' help center, and adjusting for a Category 3 Female cyclist, she decided to aim for a CTL of 80, about 20 points higher than it had ever been before Gila, and about 10 points higher than her all-time peak.
Planning Her Training
Once she decided on the target CTL it was time to start planning her 2017 season training. The first step was to create an ATP based on Target Fitness, setting the first day of the Gila as the "A" race and setting a target value of 80.
Once the ATP was created, and the target TSS was set for each week, Michelle made sure to review the ramp rates for each week to ensure that the goal was realistic and would not stress her too much, too fast.
Once it was determined that the ramp rates were at an acceptable range she began to plan the daily workouts a couple of weeks at a time. By reviewing the volume in the week summary of the calendar she was given a weekly TSS target to plan for.
Next, she started planning the TSS-based workouts using a combination of the Workout Builder, the TSS auto-calculation, and by estimating TSS based on past workouts. Once all the workouts were planned for the week she would review the goal TSS and what TSS the planned workouts added up to and then adjust as needed.
Analyzing Her Progress
At the end of each week Michelle reviewed her Home View to see where her fitness was in relation to the plan. If everything was done as planned and she was on track then no adjustment was needed and she continued on as scheduled.

However, if Michelle had to miss a workout or two due to unforeseen circumstances, then she would look at how far off the plan she was and consider whether or not she could get safely back on track, or if she needed to reevaluate her goal.
Performing at her Peak
When all was said and done, Michelle ended up reaching a peak fitness of 72, just 8 points shy of her goal of 80 and ended up enjoying her best result yet with several top-10 stage finishes, and a 5th-place finish in the General Classification.
Way to go Michelle!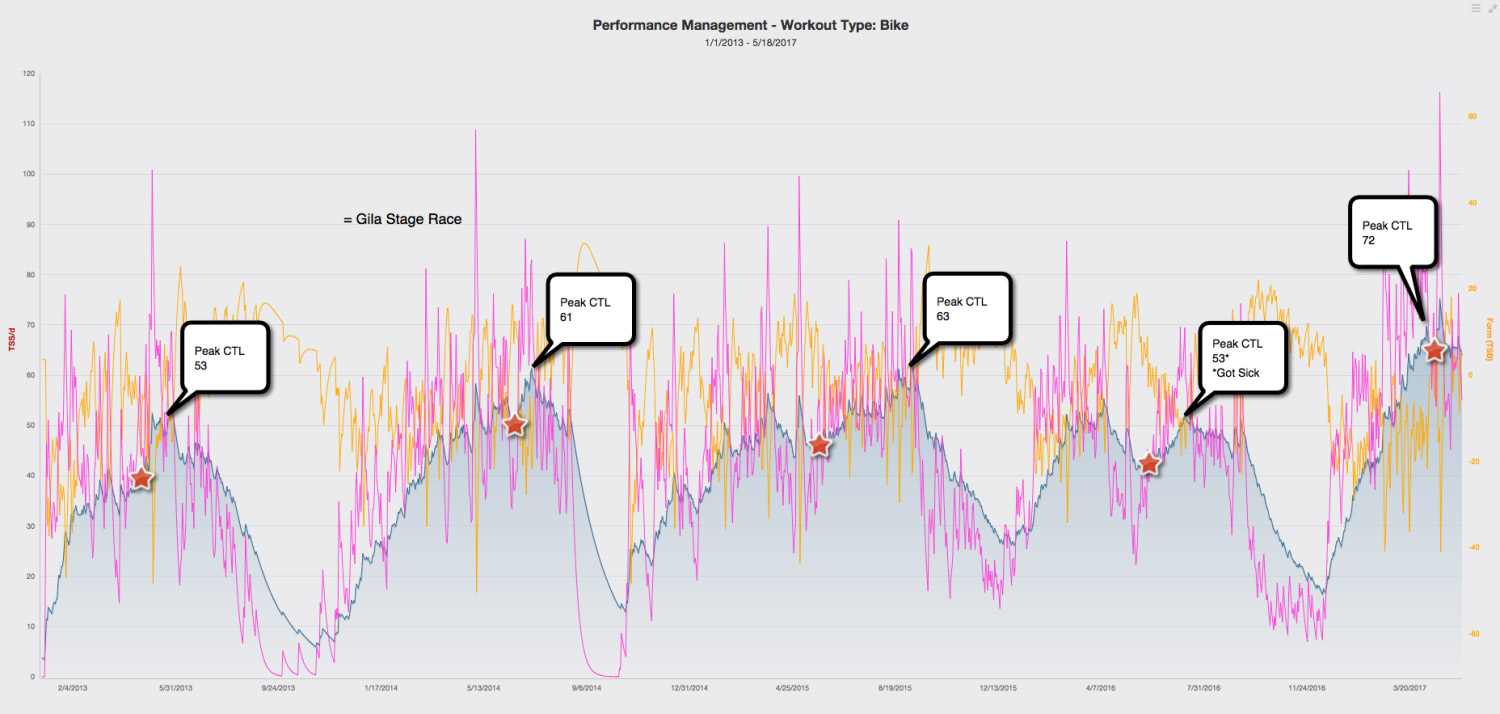 Are you ready to commit to your goals in 2018? Find out how TrainingPeaks can help make your racing dreams a reality HERE.