What's New at TrainingPeaks
Liven up your training! StackUp is now live on the TrainingPeaks mobile app. Compare your Peak Performances with other TrainingPeaks athletes, and see how you stack up against the competition. Get deeper insights by applying filters such as Gender, Age, Time Range, and Time Split.
Learn About the Most Recent Features and Updates at TrainingPeaks
Bringing you the latest features and updates to help you level up in your training and make progress towards your fitness goals.
Bring Your Swim Workouts to Life with FORM Goggles
July 2023

|

MOBILE + WEB

The power of mid-swim data is now in your hands. Sync workouts to your FORM Goggles, and bring more accuracy (and fun!) to your swimming.

Swim workouts from any TrainingPeaks format (even text descriptions) now sync as structured workouts to your FORM Goggles. Speed, distance, and interval prompts will appear in realtime as you swim, with stroke type and turns tracked as well. See everything you need to stay focused and feel more confident in your swim workouts.
Garmin Users: HRV Is Now in TrainingPeaks!
JUNE 2023

|

MOBILE + WEB

Garmin Users: Your HRV data now syncs automatically, along with your daily health metrics. Never spend another second manually entering your HRV data. You — and your coach — will now have instant access to this data, giving you a more complete picture of your health and fitness.

Coaches: You now have seamless access to HRV data for your athletes — Basic and Premium — who use a Garmin device to train. To better analyze an athlete's HRV over time, upgrade an athlete to Premium to view HRV charts.

See if your Garmin device tracks HRV.

To learn more about how to sync Garmin Connect with TrainingPeaks, visit our Help Center.
The Workout Summary Just Got A Facelift
JULY 2023

|

MOBILE

Enjoy a smoother post-workout experience with a more modern workout summary.

Love that extra rush from seeing all those green workouts? We've got great news – the compliance color bar now reveals exactly how well you stuck to your planned workout. Get clearer insights, and keep turning your workouts green.

Head to any previous workout to see the new lay of the land.

This update currently applies to iOS users only, with updates for Android coming soon.
Mobile Workout Library Update
MAY 2023

|

MOBILE

TrainingPeaks Coaches and Premium athletes can now enjoy the redesigned TrainingPeaks mobile workout library flow. We updated the process of adding a workout from the workout library on mobile with a new bottom sheet and a date picker so you know exactly where this library item will be added.
Custom Zones: Delivering a Professional Athlete Experience
MAY 2023

|

WEB

Instead of manually setting zones for each individual athlete, coaches will now have the ability to choose their custom zones from a drop-down menu and apply them to their Premium athletes in a flash.
Access Custom Zones from your Coach Settings.
Set your parameters by Heart Rate, Power, Speed, and Pace.
Locate your custom zones alongside our other pre-set zone methods in Athlete Settings.
Choose your custom zones from the drop-down menu and apply them to your Premium athletes.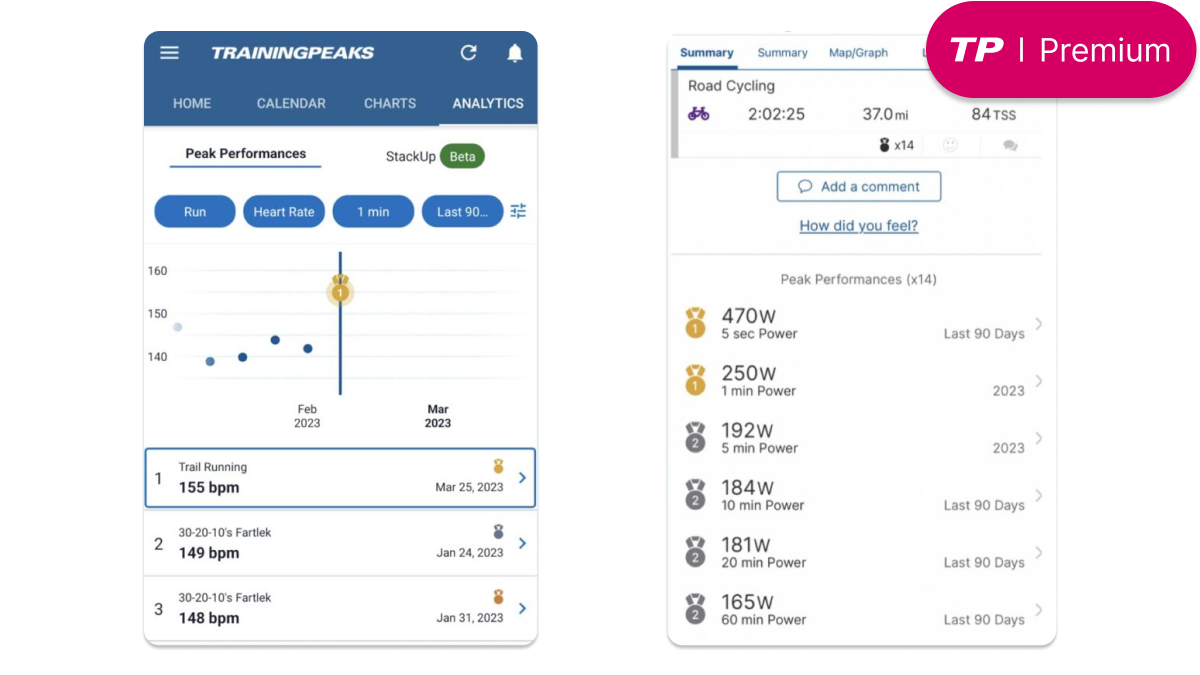 Last 90-Day Peak Performances + StackUp
MAY 2023

|

MOBILE

A new last 90-day time range was added for Peak Performances and Stackup, which allows athletes and coaches to see how they're progressing within a training cycle. Of Note:
In the workout summary, if a performance is a Peak for multiple time frames, we still only choose one to show the user. We choose whichever is the longer time frame.
This will not populate in the UI for workouts in the past. Users will start receiving them on future workouts. Peak Performances and StackUp will have accurate data for this trailing 90-day window.
See Local Weather Conditions for Your Athletes
JANUARY 2023

|

WEB

Coaches can now see local weather conditions while scheduling training for their athletes. Avoid cluttering your screen with multiple open tabs, and say goodbye to last-minute reschedules due to poor weather.

Deliver a smoother, more personalized experience, and set your athletes up for success by scheduling more intense workouts on clear days. We all know training's more fun with dry socks.
New StackUp Data Channels
MARCH 2023

|

MOBILE

TrainingPeaks StackUp now compares cycling power by raw watts (to add to w/kg) and running by pace and distance. Read the help article to get the details.
2022 Updates
We continually make improvements and release new features and updates to bring you the best training experience. See the highlights below.