Training Load By Week
Average Weekly Training Hours: 06:37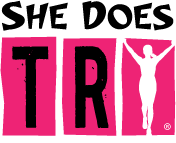 "It's never too late to be what you might have been." - George Elliot
Especially designed for EXPERIENCED female triathletes who have completed multiple sprint and international distance triathlons, the primary goal of this 14-week training plan is to prepare you to EXCEL in YOUR Sprint Triathlon on race day
Crafted by USA Triathlon-certified coach and Elite triathlete Krista Schultz, MEd, CSCS, this plan includes scientifically designed workouts formulated from over 12 years of practical coaching and racing experience.
Starting 14 weeks before your goal race, this plan progresses through one base period and two build periods (8.5 hours in biggest training week) prior to peaking and tapering the last two weeks. Following the base period, each week typically contains 3x swims, 3x bikes and 3x runs plus 1 BRICK run. You will build up to: 3,000 yards (or meters) swimming, 1.5 hrs biking and 50 min running. Your long ride is Saturday, long run is Sunday and off day is Monday. Although not necessary, we recommend using a heart rate monitor in conjunction with perceived effort; you may also use a GPS-device for running or power meter for cycling, too.
Prior to using this plan, you should be able to complete the following workouts:
• Swim: 30 meters or yards
• Bike: 60 min
• Run: 30 min
Purchase of this plan includes our comprehensive 40+ page Triathlon Training Guide, which explains how to use your training plan.
Questions? Please visit us on the web at enduranceworks.com or email our team directly at: info@enduranceworks.com.

Please note: This plan can be re-used in the future (change start or end date).
Sample Day 1
Z2 ride.

Include:

6 x 30" (seconds) high speed spins (as fast as you can without bouncing in the saddle) with moderate resistance and 30" in between

and

3 x 45" single leg drill (each leg) under moderate tension @ cadence 60-80 rpm (alternate legs so total of 6x).

Watch videos of how to do the drills at: http://www.enduranceworks.net/resources/cycling-drills
Sample Day 1
W/U:
200 FR easy - practice breathing to both sides, r15s
2 x 100 Float Kick Drill, r15s - try to feel a "balanced" body
2 x 100 Side Kicking Drill, r15s

Main Set:
- 200 FR Z2 long, steady strokes w/ PADS
- 100 non-FR easy
- 4 x 200 FR start easy and build up to Z3 by end of each 200, r15s
- 6 x 50 FR (25 VERY fast Z5, 25 easy Z1), r15s

C/D: 200 easy CHOICE

Total: 2,200

Note: PADS = Hand Paddles

You can find all the swim drill videos here:
http://www.enduranceworks.net/resources/swim-drill-videos
Sample Day 2
WU 6' (minutes) easy to Z2. Include 6 x 10-15" pickups - quick acclerations (not sprints) to get your fast twitch muscle fibers to fire.

Z2 run with hill repeat set in the middle.

For the hill repeat set, find a moderate incline hill (or select 4% if on a treadmill). Repeat 4x: 30" (seconds) up VERY HARD (Z5+), easy jog down then rest additional 15".
Sample Day 3
Z2 ride on a course with rolling hills (if possible). Nothing fancy. Include 4 x 1' (minutes) of standing mixed in throughout the ride.
Sample Day 4
Z2 on a course with rolling hills (if possible). If running a treadmill, vary incline between 1-4% throughout the run to simulate inclines.
Sample Day 4
Please visit http://www.enduranceworks.net/resources/field-tests to download the guide for the swim field test in order to set your swim training zones.

W/U (Warm Up):
200 FR (freestyle) easy
100 non-FR
4 x 50 FR (VERY FAST Z5, 25 easy Z1), r15s
2 x 100 FR start easy Z1 and build up to FAST Z4, r20s
100 FR easy Z1 to stretch out, r60s

MS (Main Set):
Perform field test per guide.

C/D (Cool Down): 200 easy CHOICE

Post workout: Calculate your training zones using the swim field test guide. Note your total time and pace to compare against future field tests.
Sample Day 5
WU (Warm Up): 10' (minutes) to Z2

Z2 ride on flat to rolling course.

At halfway point, alternate (still at Z2 effort):
- 4' LG (small chain ring)
- 4' BG (big chain ring in front)