Average Weekly Training Hours 04:39
Average Weekly Training Hours 04:39
When you cross the finish line of the Disney Marathon, you've accomplished something very special!
Especially designed for the novice to intermediate level runner with a full time job and other commitments, the single goal of this 12-week training plan is to set you up for YOUR DISNEY MARATHON SUCCESS.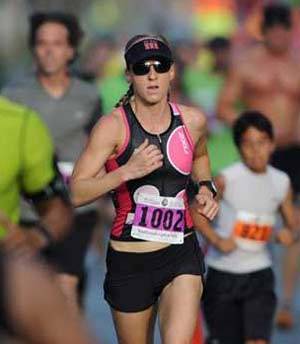 Hand-crafted by USA Triathlon-certified coach and elite endurance athlete Krista Schultz, MEd, CSCS this plan encapsulates her exercise physiology expertise with more than a decade of experience as as an endurance athlete and coaching hundreds of other athletes to success.
A typical week consists of 4 run and 2 strength workouts. During the plan, you will build up to a 3 hour long run. Your weekly schedule includes optional time allocation for strength exercises and a designated off day (Monday). We recommend using a heart rate monitor in conjunction with perceived effort, but a heart rate monitor is not required.
Purchase of this plan includes our comprehensive ENDURANCEWORKS Run Training Plan Guide, which explains how to use your training plan, and, as an added bonus, Build and Maintain: Strength Training for Triathletes.
Prior to using this plan, you should be able to run for 90 minutes.
Most importantly, purchase of this program includes complimentary email access to our team at any time for questions that you may have about this plan.

Questions? Please visit us on the web at enduranceworks.com or email our team at: info@enduranceworks.com.
Sample Day 2
W/U: at least 15 min

Test: Run 30 minutes as fast as you can
Pace yourself. Easiest done on a track or treadmill where there are no interruptions like road crossings.
Note your heart rate at 10 minutes, 20 minutes and at the end of the test.
Take the average of the three data points.

C/D: 15 min

The average heart rate that you observe will be a good estimate of your Lactate Threshold Heart Rate (LTHR).
Under "Settings" go to "Zones" then "Run" then select Joel Friel(7) to calculate your run HR training zones using LTHR.
Sample Day 3
See strength training plan- Full body workout
Sample Day 4
z2 (MODERATE), Hilly terrain or trails
Sample Day 5
See strength training plan- Full body workout
Sample Day 6
z2 (MODERATE)
Sample Day 7
W/U: 30min z2 (MODERATE) w/3 x 30s pickups,

5 x 8 min at z3 (SOMEWHAT HARD) w/60s recovery in between each,

C/D: 30min (EASY), static stretches
Sample Day 9
Run:Intervals (Track or flat road)
W/U: 10min z2 (MODERATE) w/4 x 5-10s pickups,

z4(HARD): (800s, 600s, 400) x 3sets,
w/ 1 min rest in between each interval & 3 min rest in between each set

C/D: (EASY) rest of run, static stretches