Average Weekly Training Hours 03:47
Average Weekly Training Hours 03:47
THE DISTANCE COACHING
AN EDUCATED APPROACH TO RUNNING PROGRAM DESIGN
So, you want to run your first Sydney Marathon? Not sure how to train for it? This program is for you.
This program assumes that you already run - you may have already done a half marathon or a few 10km races and can currently manage training runs of up to 10km.
WHAT TO EXPECT FROM THIS PROGRAM
This program is a 20 week lead in. It progresses quite conservatively, meaning it's perfect for runners new to the marathon distance.
There is an emphasis throughout this program on teaching you pacing and consistency, both of which are critical to training and racing.
This plan progresses through 3 weeks of general conditioning to prepare you, before an 15 week Marathon specific phase (which will see your longest run of 32km and longest total week of 60km), prior to entering a 2 week taper. To aid training adaptation, there are 2 noticeable recovery weeks during the main 15 week build.
At The Distance, our running programs are designed using training fundamentals proven to enhance performance. Inserted strategically each week are various forms of aerobic, anaerobic and high intensity running specific training sessions.


SOME TIPS
Consistency is the key to this program and you have a minimum of 3 recovery days per week. None of these individual sessions are super tough but this program will get you to the start line in really good shape as a result of the overall work, so do your best to complete every session.
Easy means Easy!!! Really focus on sticking to the prescribed pace for every session. There are many reasons for running slowly/easily. Do not be tempted to run too fast - save that for when the program asks you to run fast, and race day!
Never shorten your warm up or cool down - its a sure way to get injured. If you are pushed for time, I'd prefer you to cut the main session short.
ABOUT US:
ABOUT US: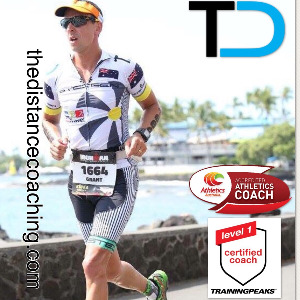 With a passion for anatomy and the physiology of exercise, our head coach is an accomplished age group Marathon and Cross Country runner, Ironman Triathlete and 2 time World Championship representative. He is an accredited Lvl 2 Advanced Athletics Australia running coach, Athletics Australia course facilitator and holds a B.App.Sci. (Human Movement) and Post Grad.Dip. (Exercise Science)
If you ever need clarification, feel free to email any questions via our website:
www.thedistancecoaching.com
or direct email coaching@thedistancecoaching.com