Training Tools for Cross Country and Track Coaches
Team coaches know that communicating with athletes, creating schedules, and reviewing workouts on a daily basis can be a struggle. TrainingPeaks is a single solution to all of these issues, allowing you to coach effectively and efficiently.
Meet TrainingPeaks
Easily build structured workouts in minutes. Simply drag and drop training blocks together and the Workout Builder will automatically populate specific pace, power or heart rate training targets based on your current fitness.
Coaching Made Easy
We'll help you save time and coach more effectively.
Organize & Streamline Communication
Organize & Streamline Communication
Easily see all of your athletes and their data in one place.
Plan Faster
Build structured workouts that automatically update to your athlete's individual zones.
Track Athlete's Progress
Monitor fitness, form, and fatigue over time with the Performance Management Chart to make sure they stay on track to reach their goals.
Actionable Insights
Easily see if their workouts were completed as planned and precisely analyze power, heart rate, and other data to make informed and confident decisions.
Create Schedules & Track Progress
Communicate with one or all of your athletes with a single message.
Review and analyze the performance gains of each team member.
Using TrainingPeaks Mobile app, you can review and modify schedules, analyze workouts, and communicate to your athletes.
TrainingPeaks has made it easy for athletes to upload workouts, so you have full records of every session.
FREE 30 DAY TRIAL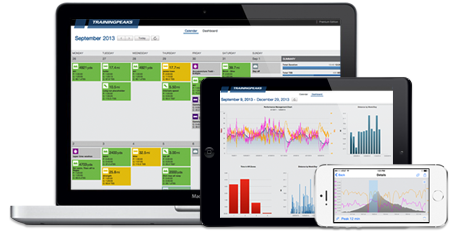 Cross Country Training Program
Developed by Olympian and 8x National Champion Adam Goucher and Elite Coach Tim Catalano.
s
Developed by Olympian and 8x National Champion Adam Goucher and Elite Coach Tim Catalano.
You will receive:
Six high school specific cross country plans for all abilities.
How-To Guides covering goal setting, mental training, race day routines, and more.
Instructional videos including drills, exercises and strength routines.
High School Package Only $299/year
SIGN UP
Team Discounts
GPS and heart rate can help you monitor your athlete's efforts. Give your athletes discounts on the latest running devices including Garmin, Tom Tom and Wahoo.
Mobile Apps
We know your athletes are always in motion, so we made TrainingPeaks accessible wherever they are with our free mobile apps for iPhone and Android.
Powered By TrainingPeaks