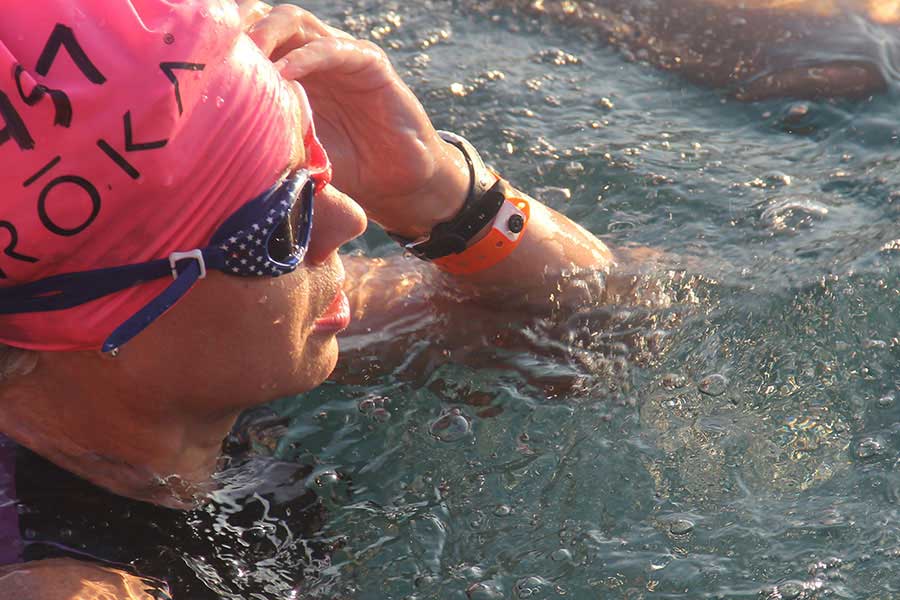 4+ Months Out:
Focusing on Weaknesses and Setting Fitness Benchmarks
Chapter Two
8 Minute Read
Now that you've decided upon a race and a strategy to reach your goal, here is where the hard work really begins. In this section of the IRONMAN training guide, these roughly eight weeks are all about perfecting your technique (especially in your weakest discipline), working on proper form and handling, as well as setting the right fitness benchmarks from which to build from and assess your progress.
IRONMAN Weekly Training Hours*:
Biking: 3-6 hours/week
Swimming: 2-4 hours/week
Running: 2-4 hours/week
*These totals will vary greatly depending on your triathlon experience, age, and fitness level. Always defer to a coach for the most effective training results.
Swimming: If you feel that your swimming ability is your greatest hurdle heading into your first IRONMAN, take note: you are in the majority. While the thought of swimming for well over an hour straight (in open water no less) might seem daunting, the key is to build a solid foundation of technique and efficiency before building up an excessive amount of mileage.
Use these eight weeks to either perfect your freestyle technique with drills or focusing on pacing. "Pacing is a big problem for many triathletes. By not swimming mechanically well enough to start at a steady effort, they struggle with keeping a sensible pace and start on the bike with unnecessary fatigue," says Speedo Coaching Advisor Dan Bullock. "Once you understand good pacing, it can be key to further improvements in the water."
Now is the perfect time to start swimming with a Masters group, or if you can afford it, getting a one-on-one swim consultation to identify your stroke inefficiencies. Doing this now can stave off frustration and/or injury when your weekly swim mileage increases in the coming months.
Cycling: The bike leg of an IRONMAN takes up by far the longest amount of time, and therefore is also the best place to save time. As such, it will necessarily take up the lion's share of your training volume, particularly in the critical build weeks roughly two months out from race day.
If you're new to any aspect of road riding — clipping in, handling skills, riding in a group, etc. — then now is the time to address them in earnest. "All too often I've seen good results lost due to a rider's poor skill set when riding the bike. I know that rider has worked really hard in their training, they've committed to a tough training plan, and yet the results don't match up to their power profile," says Coach Colin Batchelor.
Work with a coach or an experienced cyclist to gain confidence on the bike, and pay attention to the type of IRONMAN course you need to be trained for. Are there a lot of hills? Any technical descents to be prepared for? Searching on forums for other athletes' experiences at your event's bike course can alert you to any types of terrain you should plan ahead for.
Running: Even an accomplished marathon runner will encounter an entirely different type of 26.2 miles when they exit T2 during their first IRONMAN. After a 2.4-mile swim and 112-mile bike, your legs are going to be more than a little tired!
That being said, good running form and muscle alignment can do wonders to help keep even a newbie IRONMAN athlete from completely falling apart.
Much like swimming, efficient running form should be cultivated now so that when your mileage ramps up, your body will be foundationally strong and ready. "The key to developing good form is to ingrain proper movement patterns into your muscle memory so that they become automatic," says Coach Adam Hodges. "And proper movements can be trained through drills."
Incorporate some dynamic drills, such as butt kicks and side-to-side skips, as well as some short (100 meters or less) barefoot sprints in grass to help improve your turnover and condition your primary and secondary running muscles.
"You can totally do this! An IRONMAN is a daunting challenge, but if you get a good training plan and follow it, you will cross that finish line."

Ronnie R., two-time IRONMAN Finisher
Setting Your Fitness Benchmarks
Even if you are not a data-driven athlete, fitness metrics play a vital role in not only getting you to the IRONMAN start line, but successfully getting you to the finish line as well. By setting your fitness benchmarks, you not only create a barometer from which to base your workout efforts around, you also set a starting place from which you can more easily gauge your progress and fatigue.
While there are a number of metrics you can measure, let's keep things simple and focus on Functional Threshold Power (FTP), Heart Rate Threshold, and your Training Stress Score (TSS).
Functional Threshold Power (FTP): FTP, measured in watts, is the greatest mean maximal power you can currently sustain for one hour. Your FTP is not a stagnant number, but rather it should increase as you gain fitness and you will see a decrease if you lose fitness, are overtrained or are ill.
This is important because measuring your FTP at the beginning of your IRONMAN training will allow you to see how you improve, as well as indicate if something is either going wrong in your training or if you need to rest. In order to measure and track your power output you will need a power meter and bike computer, as mentioned in chapter one.
There are many tests for measuring FTP, but it's unlikely that a one-hour effort on the bike is going to give you accurate data (unless you can find a 40K time trial race to do). The most common field test for finding FTP is a 20-minute, steady-state ride done at maximal effort. It should be treated as a race, so be rested for it. This test can be done indoors or on a flat road, but if you are riding outside be careful to keep your head up and not staring at your bike computer the entire time. "A hard 20 minutes is doable even if your motivation isn't race-like," says TrainingBible and The Power Meter Handbook author Joe Friel. "The biggest mistake athletes make in doing this test is starting out much too fast for about five minutes and then fading over the next 15 minutes."
If you subtract five percent from the average power output of that 20-minute effort, you will get your FTP. All of your power zones (Zone 1 being recovery and Zone 5C being your maximal hard effort) will be based upon this number. It is a good idea to retest your FTP every six to eight weeks during training in order to keep it accurate.
Heart Rate Threshold: Your Heart Rate Threshold (HRT), also known as lactate threshold heart rate, measured in beats per minute (bpm), is the greatest mean maximal heart rate your can currently sustain for one hour.
Training with heart rate alone is a viable option for many IRONMAN athletes. While running power meters do exist, most triathletes still depend on heart rate threshold and pacing for running. In order to measure and track your heart rate you will need a heart rate monitor and GPS watch, as mentioned in chapter one.
One of the most common tests for measuring HRT is a 30-minute steady-state effort, preferably on a flat surface such as a running track. On rested legs and after a good warm-up, begin your 30-minute time trial, but do not press the "lap" button on your watch until you are 10 minutes in. Your average heart rate during those last 20 minutes is an estimation of your HRT. Much like with FTP, this number will determine your training zones and should be re-tested roughly every six to eight weeks as your training progresses.
Training Stress Score® (TSS®): Your Training Stress Score is a unique score developed by TrainingPeaks that factors in relative intensity, duration and frequency of each of your workouts, allowing you to quantify them and track your progression using TrainingPeaks' Performance Management Chart (PMC).
Simply put, your TSS score takes into account your form, fatigue, and fitness for a given workout so that you can properly build, recover, and peak at the right moments (i.e. on race day). Using TSS and the PMC are by no means only useful for elite athletes, in fact they can be very helpful for newbie athletes training on their own without a coach. In order to use TSS and the PMC you will need a TrainingPeaks account and either a heart rate monitor or power meter (ideally both).
With your specific weaknesses addressed and your fitness benchmarks set, you are now heading into the heaviest weeks of your training, where race specificity training, staying motivated and avoiding injury will be key to your success.
"Attacking a weakness means finding out exactly what is causing the issue. You must identify the cause of your weakness and only then you can train to strengthen those areas."

Allie Burdick, Coach