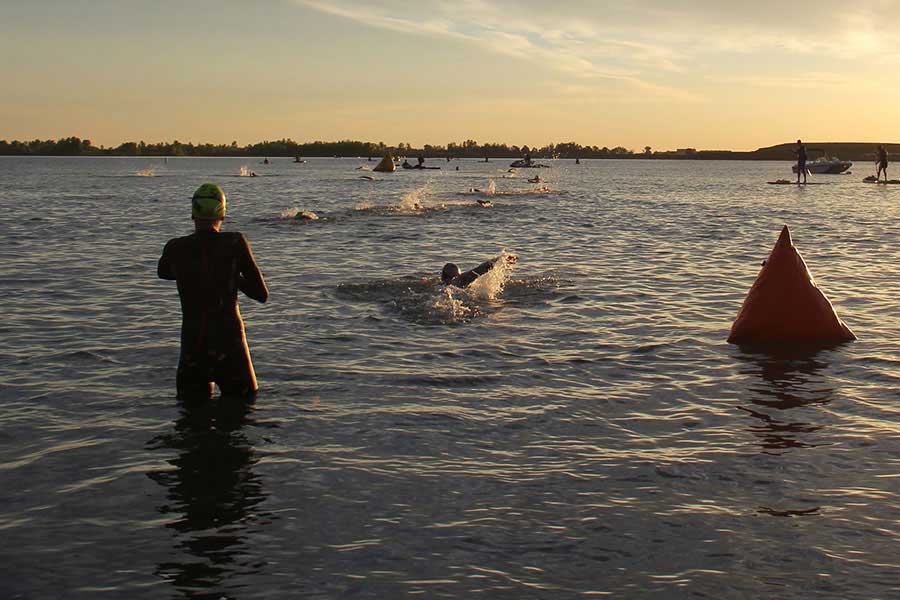 2-3 Months Out From Race Day:
Race Specificity Training and Staying Motivated
Chapter Three
20 Minute Read
Now that you've built a strong training foundation and clear fitness benchmarks, you are ready to dive into the real "meat and potatoes" of IRONMAN training. Expect your training hours per week to increase sharply, making time management the key to balancing your racing goals with your other day-to-day priorities.
IRONMAN Weekly Training Hours*:
Biking: 6-10 hours/week
Swimming: 4-6 hours/week
Running: 4-7 hours/week
*These totals will vary greatly depending on your triathlon experience, age, and fitness level. Always defer to a coach for the most effective training results.
Take a deep breath and enjoy how far you've come. Now is the time to get laser-focused with your training and mimic the conditions, mileage, and your nutrition strategy as closely as possible with what you'll encounter on race day.
Tune-up races are a great opportunity to do this, just be clear on what your goals are for these types of races and stick to them. This is also when you might experience some slight overuse pains or sometimes even full-blown injuries. Relax, and do what is necessary to rest, heal, or push onward carefully.
"Find opportunities during your training months to become mentally tough. Working out in bad weather for example. I had to ride 20 miles on a flat tire during one of my long training rides—it was the best training I could have had. Being mentally tough will save your day and get you across that finish line."

P. Dunn, IRONMAN Lake Placid finisher
Race Specificity
Race specificity training does not mean doing several 140.6-mile long training sessions. What it does mean is carefully planning out your workouts so you can mimic the specific conditions, terrain, and physiological stress you will encounter on race day. It also means planning and practicing a dialed-in IRONMAN nutrition plan that you know works well for your body during several hours of activity.
One way you can learn your specificity needs is by looking through previous training logs leading up to previous events you've done and seeing if the workouts you were doing were close to what you encountered on race day.
For example, if you were training for Escape From Alcatraz and did most of your rides on a straight, flat road and all of your swims in a warm pool —you weren't practicing race specificity, and it could have hindered your performance both physically and psychologically.
Take some time to learn about the type of IRONMAN course you're training for, and plan your long rides, runs, and swims accordingly. Is it a hilly course? Is it normally very hot and humid or is the swim often very cold and choppy?
If you have some big hills to encounter on the bike, incorporate hill work during your long rides. If you'll encounter hot, humid weather but you don't live in a relatable climate, start factoring in heat acclimation strategies in the weeks leading up to the event.
There are some tools you can use to take specificity training to a deeper level. For example, Best Bike Split software allows you to actually input your specific metrics (FTP, weight, bike fit, etc.) and get an accurate bike split prediction for the particular course you'll be riding. This can make it possible to train more specifically for the course earlier on and make tiny adjustments that could lead to big time advantages on race day.
If you will be doing a race at altitude, now is also the time to consider a training camp or trip up at elevation. How elevation affects you is a very individual thing, and as such there are many theories as to how best to acclimate, how early to travel up to altitude before a race, etc.
Training Intensity:
Any amateur IRONMAN finisher will tell you that it is not a race done entirely at a high intensity. It's a long day! However, during your training you should be including some high-intensity efforts to help build stamina, speed, and the physical adaptations necessary for long-distance racing. These can take the form of interval training, and can be done for all three disciplines, or even within a brick workout.
So what's the right formula of high-intensity versus low intensity efforts? Coach Matt Fitzgerald has written extensively about the 80/20 rule, which is based on the idea that ideal athletic adaptation comes when 80 percent of training is done at a sub-threshold pace, and 20 percent is done above threshold.
In other words, intervals should account for about 20 percent of your training in order to gain the maximum benefits of both aerobic and anaerobic conditioning. The rest of the time you should be working on long, easy mileage as you increase your body's endurance and stamina.
Get specific 80/20 Triathlon Training Plans here.
Get in the Water Often
Now is also the time to start working on your open water swimming. If, like many newbie triathletes, you have done little more that float on a raft in the open water—you need to jump in! This is also a great opportunity for some race specificity training, as the type of open water you'll be swimming in for your race should be considered and trained for. Is it an ocean swim? A point-to-point lake swim? Open water swimming techniques will vary widely depending on these factors, and if you start practicing for what you'll encounter you'll be a stroke ahead of many of your competitors on race day. If you have a fear of open water, now is the time to tackle it.
Open Water Swimming Techniques:
Sighting
Sighting takes practice, pure and simple. During a race you'll have large buoys to sight off of, however in open water training you might not, so get accustomed to finding a spot on the horizon to glance up at to ensure you are going straight and swimming the most efficient line. Be aware that while from the shore you can clearly see that particular tree, when you're down low in the water only inches from the surface—you might not be able to see it. So pick a sighting object that is tall, large, and bright enough for your needs.
You don't need to sight every stroke, in fact, that will wear you out and slow you down. Practice looking up every 10 strokes and over time you will learn how to sync your sighting with your breathing.
Keep in mind that sometimes your sighting might be hindered due to the sun (and occasionally even fast-moving fog), so before you head into the open water make sure your goggles are clean, de-fogged, and tinted or polarized if necessary. Many newbie open water swimmers feel more comfortable with larger lensed goggles, so consider purchasing some wide-angle lenses so you can see more clearly above and below water.
Breathing
If you're new to swimming, you likely have a dominant side that you breathe on, however during an open water swim you'll want to at least have the option of breathing bilaterally. Not only does it help streamline your stroke and help you find a rhythm, but when you're swimming with a lot of other people very close to you, breathing on your dominant side might not always be an option. Work on this at first in the pool before trying it in open water as it can cause you to inadvertently drift.
At the start of a race your heart rate will likely ramp up quite a bit as you swim away from shore. This is perfectly normal, but it is something you can get accustomed to by practicing a fast-paced swim away from shore. Learn how to control your breathing to calm your heart rate now so it isn't such a shock come race day.
Water Entry
Some IRONMAN races are done in waves (also known as a rolling start), meaning you'll be starting with only your age group and some space will be created between you and the swim group ahead and behind you. However, many IRONMAN races are still mass starts, meaning all 2,000+ people head into the water at once. Yes, things do get a bit chaotic, but it's important to remember that you are never in danger and as long as you keep moving forward and stay calm, the crowds will usually thin out eventually. If you are really uncomfortable with the water entry, remember you can always hang at the back until everyone else has made their way into the water.
Practice your water entry to get accustomed to either starting in deep water or from the shore. Head into the water with a group of other people and get used to what it's like to swim so close to another person for a few hundred yards. Tune-up races are a great opportunity to get used to water entries as well.
Swimming in a Crowd
Once you've made it through the water entry, you still have to get comfortable being bumped, slapped, and even occasionally kicked by other swimmers. Remember not to take it personally! Now is the time to get accustomed to the congestion. Find an open water swimming group to tag along with and remember to just keep your head down and keep going.
Eventually, you will even learn how to use the crowd to your advantage. If you pick a swimmer slightly faster than you and stay at their heels, you can actually "draft" off of them and save some energy. Just remember to sight for yourself as you can't be sure that they are swimming straight themselves!
If finding open water proves difficult for you, there are several ways you can start practicing for the open water in a pool.
Pick a spot on the opposite side of the pool and practice sighting as you swim down the lane.
Work on your hypoxic breathing (i.e. learning to breathe every three or four strokes instead of every stroke.
Work on your bilateral breathing skills.
Practice swimming with a wetsuit on to get used to the tight fit and buoyancy (and to determine any possible chafing areas).
Practice swimming around an object in a pool to simulate swimming around a buoy.
Brick workouts (running directly off the bike or biking directly after you swim) should become a major part of your training regimen around this time for this very reason. If you've ever done a triathlon before, you are familiar with that "jelly" feeling you get when you head out on the run after getting off your bike. This is because your body had to shunt the blood from the muscles used predominantly to those muscles needed for running.
While you can't completely get rid of the "jelly legs" you'll feel jumping off the bike and into the run, by practicing with brick workouts regularly in your training, you can get used to the feeling and even get more efficient at shunting the blood faster.
Before an IRONMAN, it's important that you experience what it feels like to go for a four-hour ride followed by a one-hour, moderately paced run—especially in conditions similar to those you'll face on race day.
For example, if you know your IRONMAN run is a mostly flat, multi-looped course in the heat, then plan a run off the bike at the hottest time of day on a similar type of run terrain.
And remember, brick workouts don't only mean bike-to-run transitions. Get accustomed to how you feel when you jump on your bike for a 90-minute ride after a long Masters swim workout. These types of adaptations will serve you well on race day.
Strength Training
While it may seem like finding time to strength train on top of everything else you're doing is impossible, it's worth it to incorporate some sort of strength work one to two times a week to prevent injury and to prepare your body for the demands of an IRONMAN.
You can keep this strength work simple by following a bodyweight-only routine, perhaps directly after getting out of the pool or even as part of a dynamic warm-up for one of your runs. Remember to allow at least 24 hours between a lifting session and a long ride or run for adequate recovery.
Strength training for long-distance racing can be complicated to balance on your own. If you don't have a coach, consider trying an initial strength training session with a personal trainer at a local gym in order to get a basic group of exercises in place.
You could also sign up for an online course on strength training in order to better understand strength adaptations and how to build a more long-term training plan for performance success.
Check out the TrainingPeaks University course on strength training for triathletes here.
"A common mistake I see athletes make is not really training specifically for what they want to accomplish. I find many athletes do this because they are not aware of what their specificity really is. If you're an IRONMAN triathlete, you need to prepare for a large, single-day stress, not a series of stressful days in a row, beating you down."

Jim Vance , Coach
IRONMAN Nutrition
The other, even more important aspect of race specificity training involves dialing in your nutrition plan through careful practice. While it's fun and rewarding to stop at a coffee shop halfway through your five-hour ride and eat pastries, it's not very race specific.
While you can get by with very little thought to nutrition during shorter distance triathlons, the truth is that the biggest problem IRONMAN competitors face on race day is not a lack of fitness but rather a poor nutrition plan (or a poorly executed one).
Nutrition needs vary widely from person to person, so if you have the ability work with a coach or sports dietician to find a plan that works for you it can be very helpful. However, here are some basic nutrition guidelines to help you craft your own nutrition plan:
Carbohydrate is king: In a race lasting 12+ hours, your main source of fuel will be from carbohydrate. Keeping your glycogen stores up will give you the energy to keep moving forward. "A good rule of thumb is to ingest 60 grams of carbohydrate per hour," says nutrition expert Asker Jeukendrup. "What form this takes is entirely up to you and your personal preferences."
Know your sweat rate: During a short but intense run or ride (ideally 90 minutes), you can calculate your sweat rate by simply weighing yourself (non-clothed) before and after the workout, converting the ounces lost into milliliters and adding this number to the amount (in ml) of fluid you consumed during your workout. Then divide this number by the duration of your workout to learn how many ml/hour of fluid you lose during activity.
To get a detailed description on how to do your own sweat rate test, watch the following video from Global Triathlon Network's Triathlon Training Explained:
Once you have an idea of how much fluid and carbohydrate you need, you can craft a nutrition strategy to practice regularly in training. Use your long runs and rides as times to experiment with different consistencies (gels and bars or only liquids) to see what works best for you and keeps your energy levels up.
Training with specificity also means testing out your nutrition plan in similar conditions, since your hydration and fueling needs will change if the temperature is much warmer or cooler. If you'd like to use what is available on course, now is the time to start training with it to make sure it works for you.
Even if the majority of your nutrition will be carried, it's still a good idea to learn about what will be available on course and test it out during your long training sessions. Above all, once you find a product that works in training—don't switch it out on race day! This is time well spent in your heavy training weeks that will prevent you from bonking or suffering from gastrointestinal distress or dehydration on race day.
"In my first IRONMAN I went in without a nutrition or hydration plan whatsoever. The only thing I planned to do was drink a lot and grab a banana whenever I saw one. Somehow I survived. But now I go in with a much better plan because you need more than dumb luck to get through with a smile on your face."

Greg L., IRONMAN Lake Placid Finisher