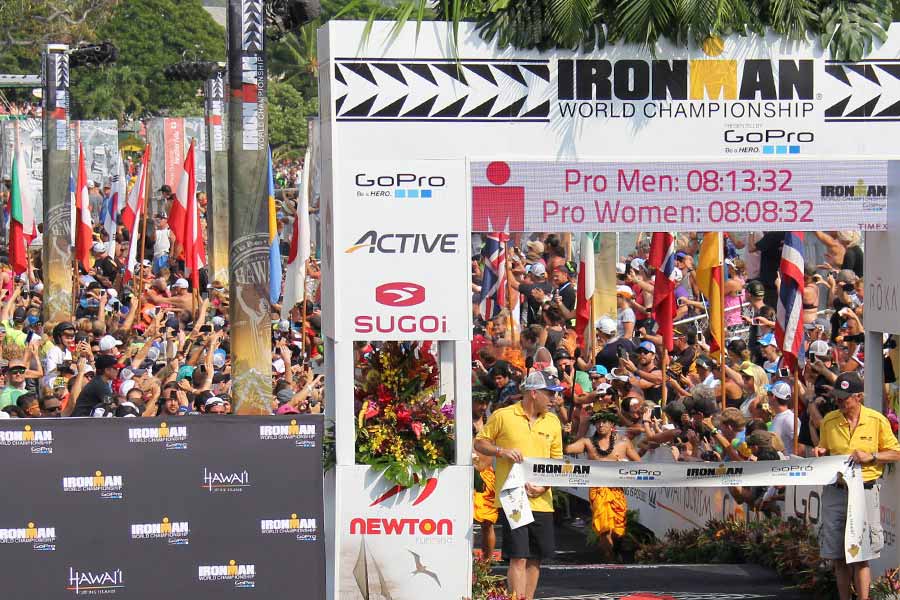 Race Day:
What to Expect Throughout Your Big Day
Chapter Six
14 Minute Read
Take a deep breath as you approach the starting line, glance over at the finish line and prepare yourself for a fun, challenging journey between these two points. From the moment you wake up to the second you cross that finish line, your timing and pacing will be paramount for success. We'll take you through this entire amazing day, from what to eat when you wake up, to how to navigate T1, as well as what to expect during each leg of the race.
Pre-Race Routine
IRONMAN races start early for a reason—it's going to be a long day! Most age group IRONMAN starts are between 6 a.m. and 7 a.m., and you'll want to plan on being up several hours before the starting gun goes off.
Because you have been following this guide, you have your special needs bags already packed, your nutrition plan all dialed, and you are already aware of exactly how you are getting to the start line and how long it will take to get there (go you!). You can now focus on fueling and prepping your body and mind for the big event.
Lay out your race clothes the night before, including any race belts and portable hydration systems. Put on a layer of sunscreen on your body and face before you put on your clothes so you can make sure you're adequately protected.
Fill up your water bottles before you get to the race event so you aren't running around last-minute trying to get all your hydration mixed and ready to go.
Nutrition Timing
You'll need to top up your glycogen stores that have depleted overnight, but you also need enough time to allow for that food to largely digest before you start your race. Plan to eat an initial breakfast that contains carbohydrates and some protein a minimum of three hours before your race begins. This will give your body enough time to digest and absorb the necessary nutrients before high-intensity exercise begins.
You should also begin your hydration well ahead of the start of the race. Start drinking your preferred (and tested!) electrolyte drink with your breakfast, and continue to sip from a water bottle as you head to the race start.
Once you are at the race event, take in roughly 100-200 more calories within an hour of the start (a gel, some energy chews, a banana—whatever you are accustomed to eating shortly before your workouts), along with plenty of water or electrolyte drink.
"IRONMAN can change your life if you let it. I wish someone gave me the same advice that I was given before my wedding day: make sure you take the time to take everything in. Don't just put your head down and think only about racing—find moments to just be proud of yourself."

Laurie M., 2 x IRONMAN Arizona Finisher