From Plan To Performance
Get your daily TrainingPeaks workouts right on your compatible Garmin device and let it guide you through your workout in real time. Get started in three easy steps.
Step 2
Build a structured workout or apply a training plan to your TrainingPeaks calendar
Step 3
Complete your daily workouts through your Garmin device
Try A Free Kickstart Training Plan
After applying a free plan to your TrainingPeaks calendar, open the TrainingPeaks Garmin IQ app and load today's workout.
Use TrainingPeaks Workout Builder
Easily build structured workouts in minutes. Simply drag and drop training blocks together and the Workout Builder will automatically populate specific pace, power or heart rate training targets based on your current fitness.
30 Days Free Premium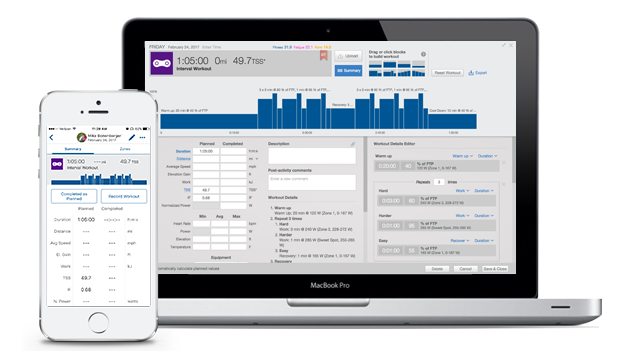 AutoSync Completed Workouts
We've made it easy to automatically get completed workouts from your Garmin Connect account to TrainingPeaks. After a one time link of your accounts, your workout data will instantly upload to your TrainingPeaks calendar.
Link Accounts