TrainingPeaks Feature Updates
Below are the latest features and updates that we have made to TrainingPeaks products. If you don't see a feature listed below, please check our release notes for more details. If you have a feature you would like to suggest, submit your feedback here. You can also keep up to date with the latest features we've added to WKO4.
January 11th, 2018
General bug squashes and performance improvements
January 4th, 2018
Planning a workout by distance with the Workout Builder will now calculate duration and TSS (note: thresholds must be set for proper pace)
General bug squashes and performance improvements
December 20th
General bug squashes and performance improvements

Last release for 2017… see you next year!
December 13th
The Workout Builder will now remember your preferences based for each sport (i.e. distance for swim, duration for cycling, etc.)

General bug squashes and performance improvements
November 8th
You can now easily pair and unpair you planned and completed workouts without downloading the workout file. Find out more

here

.

Your most recent 5 Peak Performances now show on Athlete Home.
October 26th, 2017
You can now use emojis in your pre- and post-activity workout comments.

October 18th, 2017
You can now see a list of your Peak Performances on the website the same way that you can on the mobile app. Click "Compare" next to the Peak listed in the expanded workout view to view all of your Peak Performances.
September 27, 2017
You can now click on a Peak Performance in the workout quick view and it will open the expanded workout view with that peak highlighted to show you where it occurred in the workout. You will also see how many new Peak Performances of each type (power, heart rate, or pace) you achieved in the expanded workout view.
Group coaches can now better manage their assistant coaches and their assistant coaches' athletes. You can find out more about managing your assistant coaches here.
Improve workflow for leaving comments in the iOS app. (Android update coming soon).
September 19, 2017
General bug squashes and performance improvements
September 12, 2017
General bug squashes and performance improvements
September 7, 2017
Removed decimals from Performance Management Chart metrics (Fitness, Fatigue, Form)
General bug squashes and performance improvements
August 30th, 2017
Introducing Peak Performances! A new way to track your progress towards your goal on mobile and web. Receive peak performance medals for new peak power, heart rate, or run pace.
More enhancements to the new athlete management page
General bug squashes and performance improvements
August 23rd, 2017
Improved athlete management page for coaches. Quickly see what account types athletes have and which accounts you are paying for.
August 10th, 2017
Bug fixes and crash fixes
On mobile, TSS is now displayed as a whole number, along with Fitness, Fatigue and Form and ramp rates.
August 3rd, 2017
Workouts added to, or edited "today", will now show up in dynamic plans
Added "Strength" sport type to .fit parser for workouts uploaded as strength
General performance improvements and bug squashes
July 19th, 2017
New USAT Cycling Power Zones and Running pace zones
Deleting a file will now remove the summary information
Changing sport types will automatically recalculate metrics
Updated the "add athlete" process for coaches to make it more intuitive
July 12th, 2017
Coaches can now see training plans that are applied to their athletes
The notification center in the web app will now "count down" as unread notifications are marked read.
New USAT cycling and running heart rate zones
June 28th, 2017
Athletes and Coaches can now upgrade a new athlete account to premium during the trial period
General performance improvements and bug squashes
June 21st, 2017
Coaches can now choose their default view upon login.
Athlete's now informed when coaching request is accepted.
Coaches will now be notified when an athlete is attached to their account.
June 14th, 2017
This week's release brings some improvements to the process for attaching an athlete to a coach.
Coaches will now receive a notification that a new athlete has been successfully attached to their coach account.  A numbered red circle will appear on the athlete library icon to indicate that there are new athlete in the athlete library. When the library is opened a blue dot will appear next to an athlete's profile picture to indicate that there are new athletes in the athlete library.
Coaches no longer need to confirm an athlete attachment after sending an invite link – when the athlete clicks the link they will be immediately connected to the coach's account.
June 7th, 2017
This week's release brings some improvements to 'Last Planned Workout' functionality and the Race Report chart.
'Day off' no longer counts as a last planned workout.
Changed Race Report styling to make clicking more discoverable.
Head coaches can now load their assistants' groups.
Other general bug fixes and performance improvements.
May 31st, 2017
Clicking Peak Performances in the Fitness History chart will now take you to the workout where the peak was set.

Coaches can now view their assistant coach's groups.
Made add athlete and add group more discoverable.
Other general bug fixes and performance improvements.
May 24th, 2017
Announcing the new Home view for coaches! An easy way for coaches to answer the question, "who needs my attention?" Learn more.
New bike and run heart rate zones from USAT.

Other general bug fixes and performance improvements.
May 17th, 2017
By popular request, we have added the ability to manually select your Training Stress Score calculation based on the channels available.
Use the arrow next to the TSS score to recalculate the TSS based on the available channels.
May 9th, 2017
This week's release includes the ability to click on a race in the race report chart to view the race data.
Click on a race in the race report to view the corresponding data.
Higher contrast in the scatterplot chart when 2 intervals selected.
May 3rd, 2017
Several bug fixes and performance improvements
April 26, 2017
Share a workout library to multiple people at once
General bug fixes and performance improvements
April 19, 2017
This week we introduced the Workout Overlay, a new way to quickly see how you (or your athlete) performed their workout compared to the plan.
Workout Overlay
General bug fixes and performance improvements
April 5, 2017
Athletes can set the default view they see upon login
Receive a warning in the Workout Quickview for negative metrics
General bug fixes and performance improvements
March 29, 2017
Workout attachments can now be viewed in the workout library

Minor bug fixes and performance improvements
March 23rd, 2017
This week we launched new training plan profiles with the following new features:
A new modernized layout, focused on allowing the user to determine quickly whether or not the plan will be right for them, including an "At-A-Glance" overview, the ability to dive deeper into the description, see sample workouts and author information (provided the training plan coach has a published TrainingPeaks profile)
New charts to show average weekly workout duration
New bar chart for weekly duration/distance, along with the addition of TSS if it's planned (workout builder workouts)
Sample workouts show first seven planned workouts by day (rather than workout 1, 2, etc …)
"Author Information" tab gives athlete the opportunity to learn more about the author and view all of their other published training plans
March 15th, 2017
Added option to sync last 90 days of Garmin data
Minor bug fixes and performance improvements
March 7th, 2017
This week's release includes an update to the default qualitative metrics, minor bug fixes and performance improvements:
Default metrics will now include Weight, Sleep Hours, Sleep Quality, Fatigue, Soreness, Stress, Yesterday's Training, Overall Feeling, Sickness and Injury

Fixed an issue with the zones overlay not displaying in the graph

Distance and TSS will be displayed on workouts in the feed in Athlete Home
March 1st, 2017
This week brings a lot of minor updates and fixes as well as some popular requests:
Retired equipment will no longer be visible in workout equipment selection

Retiring API, Device Agent and WKO 3 will no longer be supported

Add planned distance and TSS to workouts on athlete home

Minor bug fixes
February 14th, 2017
You asked for it and we listened!
In the structured workout builder units can now be 'mixed' i.e. you can build a swim with a distance based active interval and a time based rest interval
'My Athletes' will now count as a group and can be loaded like any other group
January 11th, 2017
This week's release includes the ability to export structured workouts!
Export a structured workout created from the workout builder for use on compatible devices and training apps
New filtering options added to workout library to help identify structured workouts
Convert structured workouts from one intensity type to another
Learn more about supported file formats, compatible devices and import instructions here.
January 4th, 2017
Happy New Year! A new year brings a new map option, improved workout syncing and an improved week summary!
Mapbox added as a map option for Premium users and replaces Google Maps for free Basic users.
Improved Workout Syncing – When pairing completed workouts with planned workouts we will now look at date, workout type and time of day/order on the day.
Predicted Fitness (CTL), Fatigue (ATL), and Form (TSB) added to the week summary and to the quickview.
Improved Workout Builder TSS Calculator
December 21st, 2016
This week brings some big improvements to the Training Plan Store search, making it easier to find the perfect plan to meet your goals.
Improved plan selection experience. Narrow results through sport type, weeks and hours.
Improved keyword search and sorting.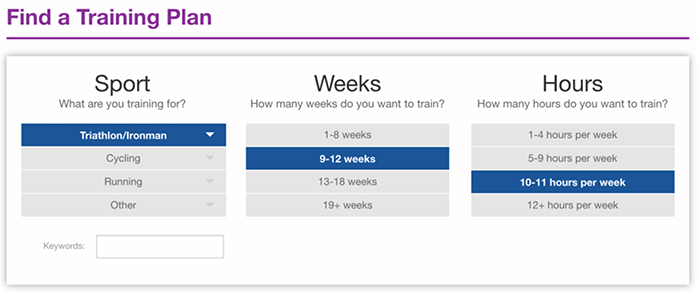 December 7th, 2016
This week we made some minor bug fixes and enhancements to Workout Builder and our TrainingPeaks training plans, along with a new build for WKO4.
Workout Builder
Shortest interval is now 5 seconds
Added an 'X' to the Workout Builder form which will allow you to remove very short intervals where the 'X' was hidden in the builder.
When a structured workout is completed it will retain the zones upon the time of completion for historical reference
Training Plans
Coaches can now unapply shared plans from their athletes
When adding a training plan to the TrainingPeaks store choosing a category is now mandatory
Plans for sale in the TrainingPeaks store must have a price of $4.95 or more (plans can be discounted through the use of coupon codes)
Dashboard
The Laps and Splits chart header stays fixed while scrolling.
November 20, 2016
This week we released some minor bug fixes as well as some enhancements to the workout builder and the Annual Training Plan.
Clicking on a block in an interval in the Workout Builder will highlight corresponding interval in the form below for quicker editing
Scroll the workout quickview and the builder form separately for greater control when building workouts.
ATP limiters added to the ATPs using weekly TSS or target CTL
November 16, 2016
Introducing the TrainingPeaks Workout Builder! The Workout Builder allows coaches and premium athletes to build structured workouts with intervals based on percentage of threshold power, pace, heart rate, or event RPE. Building a workout in this way will not only calculate the duration of the workout but the Training Stress Score as well.
November 2, 2016
This week we have made some small changes that will have a big impact on your overall user experience as well as save you time.
Descriptions of workouts in your library will now be visible when you hover over them.
If you were attached to a coach and that coach applied a training plan to you, that plan will now be visible in your library once if you detach from that coach.
ATP Event Types will now be limited to the Event Type chosen. (i.e. if you select 'Road Running' then 'Bike – 100 miles will not be an option'
Workouts can now be moved to a new library by dragging and dropping or from the drop down menu
October 26, 2016
Season Planning with TSS
We have added the options to plan with average weekly Training Stress Score (TSS) or Event Target Fitness to the Annual Training Plan (ATP). Planning by either of these methods will allow future Fitness, Fatigue, and Form to be modeled in the Performance Manager Chart.

Learn more about this new feature, as well as how to plan your season with TSS, and why you should plan your season with TSS. You can also read more about the new annual planning methodologies.
Rename Workout Libraries and Move Workouts Between Libraries
You can now rename an existing workout library or move workouts between libraries. To rename a library click on it then select 'rename'. To move a workout from one library to the other simply locate the workout you want to move and then click and drag it to the new library.
September 28, 2016
There are several new updates for our iOS mobile app. We have added five new languages, more default charts, new notifications, a notifications center, and an improved workflow for adding workouts.
We have translated the app into German, Japanese, Portugese, Russian, and Spanish.
A new work flow for adding workouts using Floating Action Buttons.
New push and in app notifications and a notification center.
New default charts based on sport type.
August 31, 2016
The update for this week will allow coaches to create and save custom names to set up their athletes ATP periodization in any way they choose. Custom names can be created by clicking on the gear icon in the Period column or navigating to the Layout section of the Coach Account Settings.
Custom names will be saved for future ATP creation.
If you are using the automatic ATP, custom period names will replace the default period names.
These can be updated at any time.
This feature is currently for coaches only.

August 10, 2016
We have several new features coming out this week. To make it easier for athletes and coaches to view data from an event, particularly for triathletes, all data can now be added to an event. This allows for multiple files, like from a swim, bike, and run, to be nested in the event and easily viewed. For coaches and Premium Athletes, workouts can now be ordered on the day by simply clicking and dragging. Planning by Training Stress Score is now easier as well with new auto calculations. Finally, users of the Wahoo Element or Garmin Edge devices that support live segment will see segments appear automatically as a lap in the file.
Adding Workouts to An Event
Order Workouts on the Day
Duration and Training Stress Score Auto Calculation
Segment Laps
July 27, 2016
This week we have new features for both Coach Edition and Premium Athletes. The first will make it easier for users to view their athlete settings while using the Annual Training Plan. The second feature will calculate a Training Stress Score® (TSS®) for planned swims.
Athlete Settings When Using the ATP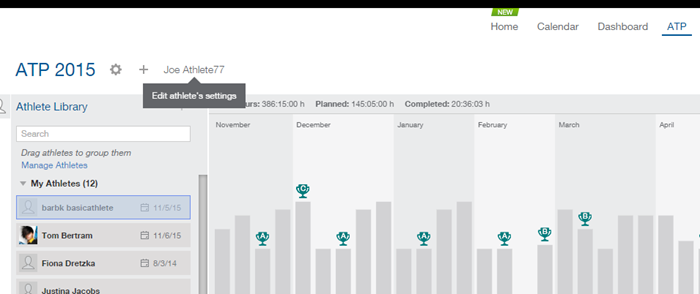 Planned TSS for Swim Workouts
July 8, 2016
Our latest release updates compliance settings for both coaches and Premium athletes. Coaches and athletes can set compliance by distance, duration, and/or Training Stress Score® (TSS®).
June 28, 2016
This week we have several new updates to our mobile iOS app. Updates include a redesigned workout view using tabs, sharing a snapshot of your workout, adding workout attachments, and more.
May 25, 2016
When coaches and athletes are viewing different metrics in their respective accounts, it can cause confusion. This week's release allows coaches to set up the Workout QuickView and Metrics QuickView for each athlete. Now, a coach can set exactly what they want their athletes to see so they can communicate more effectively.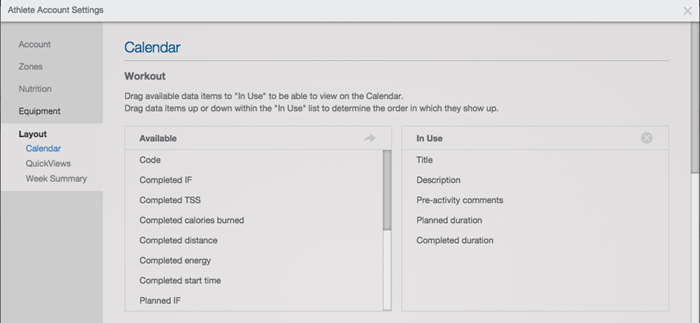 May 18, 2016
We released two features this week. The first is the new Coach Search, which gives athletes a quick and effective way to find a coach. With advanced searching and filtering, keywords, and other features, finding a coach has never been easier. The second allows coaches to put an event on a training plan. Since many plans are written to help athletes train for a specific race or event, coaches can now add it to the plan as an Event.
Coach Search
Adding an Event to a Plan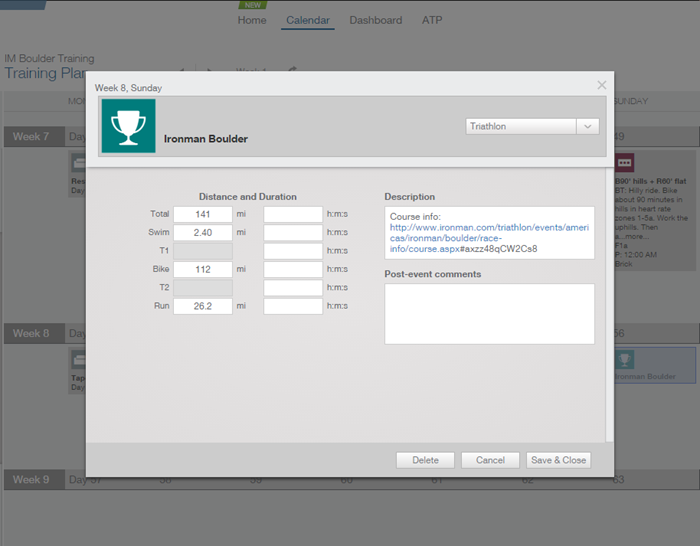 April 28, 2016
The latest release is focused on feedback with an update to Post-Workout Notifications.
April 20, 2016
This week, we are releasing the new Athlete Home. This new feature gives athletes an overview of your events and goals, upcoming workouts with all zones associated with those workouts, and Premium athletes will be able to view their ramp rate. Coaches will be able to view Athlete Home for their athletes, and can use Athlete Home to plan events, create goals, and see fitness trends.

Events and Goals
Adding an Event
Changing the Focus Event
Adding a Goal
Workouts
Adding a Workout
Interacting With a Workout
Ramp Rate and Zones
Ramp Rate
Zones
April 14, 2016
This week's release is focused on improving the goal setting process. Athletes can now add more detailed goals to stay on track for success.
Goal Setting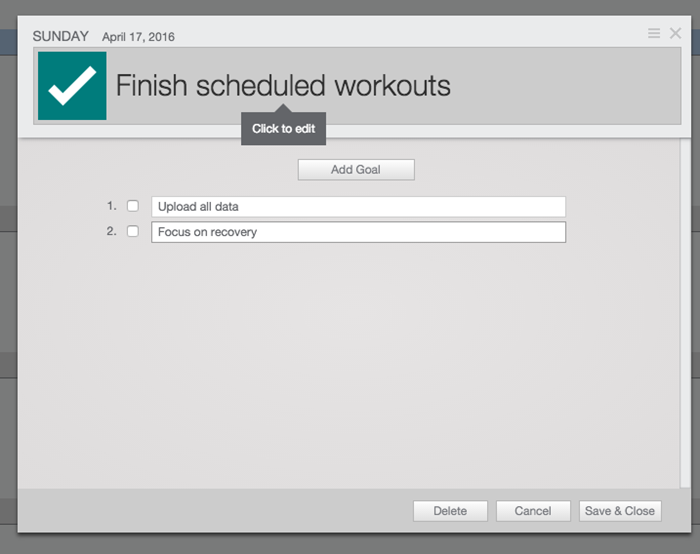 March 30, 2016
This week we have two major updates, one for the web and one for mobile. Both are designed to help coaches and athletes be more efficient with their time by allowing for greater functionality.
Web
Coaches can now add events to a group calendar.
Mobile
Coaches and athletes using iOS devices can apply and remove training plans.
March 16, 2016
Workout Tagging
Adding Tags
Using Tags to Filter Your Peak Dashboard Charts
Search By Workout Tags
Using the advanced filter menu, you can filter by workout type, fields, TTS, IF, distance, duration, comments and even equipment across any chosen date range.
Using Workout Tags is the first step to organize similar workouts in a manner that will allow you to easily access and compare them in the future. Log in now to start adding tags to your workouts.
March 9, 2016
For this week, we are releasing our newly refreshed Post Workout Notifications (PWNs) and Workout Tags. Post Workout Notifications help coaches and athletes communicate about a workout in an effective and organized manner. While these notifications have been in place for some time, we've refreshed them, giving them a cleaner look and adding a direct link to the workout for easier analysis.
Post Workout Notifications
Display
Visually, we updated the PWN to be consistent across our web and mobile platforms, making them easily recognizable no matter how you access your account. In every PWN, you will see the following metrics:
In addition, within the Post-Activity comments you will be able to see the date the comment was made and who wrote it.
Viewing a Workout
For communication purposes, this is an important feature. By making your comments in the Post-Activity Comments, you can easily find and follow a thread of communication that pertains to that workout.
Customization
March 2, 2016
New Goal Setting Features
These new features are focused on the important step of setting goals. When you sign up for an event, you should also set a series of goals, both process and outcome, that will help you stay on track. Using our new goal setting features will allow you to easily add these goals to your calendar, customize your goals, and check them off after you complete them. These features are available to both Basic and Premium athletes and all coaches.
Event Goal Setting
When you add an event, you can now add specific goals as well. This step helps you clearly define your goals, an important aspect of setting goals that are challenging but attainable.
General Goal Setting
You can now also add general training goals to your calendar.
This is a great way to track process goals like, "ride 5 times this week", or "stretch after every session".
This is a great way to visually see your progress towards your goals in a very simple and immediate way.
Currently, the Goal Setting feature is only available on the web app.;
February 3, 2016
New iOS App Update
Download the TrainingPeaks iOS app.
January 13, 2016
In-App Notifications
We've added Notifications to TrainingPeaks. Coaches and athletes will now see new notifications in the upper-right corner. Please note that Notifications are a Premium feature.
Athletes will see notifications for any workouts that have been pushed from the Garmin Sync or other 3rd party applications and new comments on workouts from their coach. Coaches will see notifications when their athletes upload a workout, enter completed values for a workout, or leave a comment.
Coaches can turn on or off notifications for their athletes in their account settings.
Resolved Issues
November 18, 2015
November 11, 2015
New Features
Resolved Issues
November 4, 2015
We've updated our daily workout emails. If you would like your planned workouts emailed to you, you can turn this feature on in your account settings.
For additional features and fixes, view this week's release notes.
October 14, 2015
Workout Search
With Advanced Search you can search workouts and filter by date range, title, description, comments, workout type, equipment, and more.
For additional features and fixes, view this week's release notes.
September 30, 2015
New Features
For additional features and fixes, view this week's release notes.
September 23, 2015
Resolved Issues
For additional features and fixes, view this week's release notes.
September 2, 2015
Remove Zeros From Distribution Charts
Athletes and Coaches can now choose to exclude zero-values from distribution charts.
Bug Fixes
For additional features and fixes, view this week's release notes.
August 27, 2015
New Features
Bug Fixes
For additional features and fixes, view this week's release notes.
August 13, 2015
Cadence and Pace/Speed Distribution Charts
Cadence and Pace/Speed Distribution charts have been added to the Expando charts.
Bug Fixes
For additional features and fixes, view this week's release notes.
August 5, 2015
Power and Heart Rate Distribution Charts
Power and Heart Rate Distribution charts have been added to the Expando charts.
Additional Features
Bug Fixes
For additional features and fixes, view this week's release notes.
July 22, 2015
Event Countdown
If a workout is associated with an event and a device file is uploaded to the workout, the event results will auto-populate.
Attach via drag and drop or create the workout from the event.
Workout data is still used for dashboard charts and reports as usual.
You can set the order of when you want workouts to appear in the calendar.
Simply click and drag workouts to the order you want them to appear.
For running and cycling, if you enter a TSS and IF, the duration will be automatically calculated.
For swimming, if you enter a duration and distance, TSS will be automatically calculated.
You must save the workout in order for the TSS to be calculated.
If you use a Wahoo ELEMNT or Garmin Edge that supports live segments, any live segment that you ride will now be shown as laps in the TrainingPeaks file viewer.
You must complete the live segment on the device in order for the live segment to appear.
Users must set up this feature through their respective device.
When using the ATP, coaches and Premium Athletes can click on an athlete's name, or their own, to open up their settings.
Once open, users can change all settings, from zones and equipment to notifications and the profile.
When planning a swim workout, TSS will be automatically calculated based on the distance and duration of the workout.
You can also manually override the calculated TSS by clicking in the TSS box.
You can set the priority of distance, duration, and TSS in your Settings by dragging and dropping them from Available to In Use.
Only metrics in use will be shown in blue text in the QuickView.
The metric that has the highest priority is shown in bold.
In the QuickView, the highest priority metric that has been planned will be highlighted green, yellow, or red.
Green means that the workout was performed within +/- 20 percent of the planned metric, yellow indicates the workout was completed between 50 to 79 percent or 121 to 150 percent, and red means the workout was completed in less than 50 percent or more than 150 percent of what was planned.
Workout lap charts have been added.
You can now view zones for future workouts.
The workout view has been redesigned to use tabs.
Workout attachments can be added and deleted.
Your metric setting can be added and edited.
A new tab has been added for all sync partners.
You can now share a snapshot of your workout to Twitter.
Support has been added for new workout compliance.
Metrics and workouts added to the day now default to the current time.
The y-axis range has been adjusted for HRV scores.
Coaches can change athletes settings for individual athletes.
Simply click and drag from the Available column to the In Use Column.
Order the metrics as you want them to appear on the athlete's quick view.
Start by entering in what you are training for.
Use the drop down menus to select sports, ability level, languages, and services.
Add keywords to further narrow down your search.
View a short summary of each coach and view their profile to learn more.
Contact the coach directly from their profile page.
Coaches can add events to plans and then apply the plan to their athletes. The athlete will receive the event along with the plan.
Coaches writing a plan can add an event to a plan and sell it. The event will be applied to the purchaser's calendar when the plan is applied.
Coaches can not add race specific goals to the event.
Description, Pre-Activity comments and Post-Activity comments are now shown.
Pace, speed, elevation, and calories are only displayed when either planned or completed data is available.
Simply click on the plus sign next to the Events title to add an event.
When adding an event, you can also add event specific goals.
Events will be displayed on Athlete Home and your calendar.
By default, the next A priority event on your calendar will be shown as the focus event.
You can change the focus event by simply clicking on the name of the event.
You will also see a countdown of the days until that event.
Add a goal by clicking on the plus sign next to the Goals title.
These goals will then show on your Athlete Home and calendar.
You can add a workout to the current day or tomorrow.
To add a workout, click on the plus sign next to Today or Tomorrow.
To interact with a workout, click on the title of that workout.
This will open up the QuickView window for you to add comments, upload data, and analyze the workout.
Ramp rate shows your gain or loss of fitness over the past 7, 28, 90, and 365 days.
A positive number shows gains in fitness while a negative numbers shows a loss.
Ramp rate is only available for Premium Athletes.
You will see the heart rate/power/pace zones that are associated with the workout(s) for that day and the next if you have a planned workout.
Goals can now be named.
Add sub-goals or lists that will help you reach your main goal.
Quickly add sub-goals by hitting return, or click on the Add Goal button.
Start by loading up the group you want to apply the event to.
Add the event to a single athlete.
You can then copy it to the other athletes, or drag it to the day bar at the top and it will automatically apply to all athletes.
Event goals are not copied to everyone in the group so you can set those for individual athletes.
To apply a plan, click on the More tab at the bottom, choose Training Plans, and pick the plan you want to apply.
You will be able to view the total distance, duration, and description of the plan when selected.
For coaches, the plan will be applied to the athlete that is currently loaded.
You can apply plans using a starting or ending date.
If a plan has an event date, choosing to end on that date is an option.
To un-apply a plan, go back to the Training Plans tab and click on the Remove Plan text.
Tag Workouts in order to classify/group workouts together.
Tags can be any combination of words, like long run, or hilly bike.
Add tags to both old and new workouts.
Your tags will be stored in a Tag Cloud for future use.
Once you add a tag your tag will be easily accessible within your Tag Cloud or from Autocomplete.
Tags can also be deleted.
Now you can filter your Peak Dashboard Charts by Workout Tags. Charts include:

Peak Cadence
Peak HR
Peak Pace
Peak Pace by Distance
Peak Power
Peak Speed

This allows you to compare performances across similar workouts.
Workout Title
Sport Type Icon
Duration
Distance
TSS
Post-Activity Comments
The View Workout Button is a major feature that will help coaches view even more details of the workout.
If you view the email from your mobile phone and have the latest iOS or Android app, it will automatically load the native mobile app. If you view the email on your computer it will load the web app. In both cases it links directly to the workout within the app.
If there is no device file uploaded the workout will still open to allow you to view any data manually entered.
Configure where you receive your PWN within your settings.
You can have them sent to your email, the Notifications Center in TrainingPeaks, or both.
PWNs are triggered when a file is uploaded or data is manually entered as completed values for a workout.
They are also triggered when a coach or athlete enters a post-activity comment.
Goals can be based on time, distance, place, finish the event, personal record, or other
You can set multiple goals for each event
After your event, you can check off the box next to the goal to show you completed your goal(s) for that event
Simply add them to your calendar like you would a workout
You can add as many goals as you'd like.
Afterwards, you can check your goal completion.
If you have multiple goals, each goal will be color coded based on completion. A checked goal turns green while a non-check goal turns red. If you complete all of your goals, the Goal tile on your calendar turns green, if you complete half of them, it will turn yellow, and if you complete less than half it will turn red.
Added Workout Search feature
Improved calendar to show workouts by sport type for each day
Added total TSS circles to the calendar to quickly identify your effort on a particular day
Added in-app purchase for Premium upgrade
Record workouts using our new Deep Link to Wahoo app from Add screen
Drawer interface has been replaced with Tabbed design
Heart Rate Variability (HRV) metric is now supported
Added support for iOS 9 iPad multitasking split view and slide over
Updates made in order to better support iOS 9
Upload profile photo in account settings and view in Workout Details
Updates to app launch image, app icon, and app theme color
Design update for login screen
Updated list of supported countries
Fixed an issue with top menu.
Fixed an issue with new athletes not showing in Athlete Management Wizard immediately.
Fixed an issue with cutting and pasting text from inside description, pre-, or post-activity comments.
Fixed an issue where the Graph Channel buttons were missing upon first load of Expando with some workout files.
Fixed an issue where the Library pane was not showing content after switching between Calendar/Dashboard/ATP.
Add a responsive Sign Up page
Fixed Bug- In full screen mode icons overlap each other
Fixed Bug- After removing a shared coach, an athlete that was in a group is moved back to "My Athletes" until the browser is refreshed
Fixed Bug- ATP – New Events not showing in Add Events list
Fixed Bug- Coach/Athlete relationships do not show for Coaches the first time they open Account Settings
Fixed Bug- PMC hover over stats tomahawk hidden at bottom of graph
Heart Rate Variability is now available as a Metric.
Fixed an issue where Events were not respecting the Athlete's or Coaches' unit preferences.
Fixed an issue where Athletes were allowed to move a locked workout.
Fixed an issue where Laps and Splits header formatting was not displaying correctly.
Fixed an issue where adding a workout to the group calendar and then hitting Save & Close caused an infinite spinner and then multiple workouts added to calendar.
Fixed an issue where marking a workout Public was saved, but then canceling did not cancel.
Fixed an issue where making changes to the Equipment selection in the workout saved the workout, but then canceling did not cancel.
Fixed an issue where changing the Calendar settings caused an infinite spinner.
Fixed an issue where Quick View comments were not saving if edits were made and applied while in Expando.
Fixed an issue where updating the Calendar Week Summary was not updating after a unit preference change.
Fixed an issue where Autosave was not behaving correctly in Athlete or Coach Settings.
Fixed an issue where CTL start value was not used if the Athlete or Coach did not input a non-zero ATL value.
Athletes and Coaches can now edit the custom legs in their Event.
Athletes and Coaches can now sort the WKO4 Chart Exchange by Created date and Chart title.
Fixed an issue where autosave was not working correctly in Athlete or Coach settings.
Fixed an issue where Metrics and Workout Quick View was not updating after a layout settings change.
Fixed an issue where highlighting on the Graph in Expando was not updating the Summary Statistics for some file types.
Fixed an issue where Skin Fold measurements were not accepting one decimal place.
Fixed an issue where the site would display "null" in the Athlete library if an Athlete's first / last name was null.
Fixed an issue where Metric Settings were not taking effect immediately after making changes unless the Quick View was closed and reopened.
Fixed an issue where the ATP Week Summary items were not displayed when a Coach changed from one athlete to another.
Fixed an issue where the Dual Calendar for Coaches required a page refresh before the drag and drop feature would work properly.
Fixed an issue where clicking the Today button on the calendar didn't always direct to Today.
Fixed an issue where modal windows, such as the Quick View, were not resizing when the browser was resized.
Fixed an issue where some Dashboard Charts were not displaying Custom Dates correctly.
Fixed an issue on the Laps & Splits chart title in the Expando was covering over the data in the chart when scrolling.
Workout type Race can no longer be created.  Events can now be used to track event specific information.
Fixed an issue some Coaches' where the calendars were jumping to the wrong date after loading a new Athlete.
Fixed an issue where the Calendar scroll was not working properly on a very high resolution screens.
Fixed an issue where some Peaks Charts were not displaying date range or sport type properly when selected.
Fixed an issue where the calendar scroll was not displaying properly when on FireFox on a Mac computer.
Fixed an issue where Left/Right Power balance was not being displayed properly for Garmin devices.
Fixed an issue where a coach creating a new athlete account was unable to complete the process because the "Save & Close" button was not always visible.
Fixed issue with the dual-calendar, where dragging a workout between calendars for the same athlete would move the workout rather than copy it.
The Dashboard Race Report has been updated. Add this chart to your Dashboard, then any Event you add to your calendar will automatically populate in Race Reports.
Your Workout Library is now easier to manage. The search bar stays in place when you scroll the workout list, there is a single control for sorting all libraries, and workouts will be ordered by name when sorting by type or code.
Events are now listed first on the day in the calendar. Nutrition is last, workouts and metrics are in the middle by time of day.
Peaks charts in the file viewer and dashboard can be switched to a grid view.
Events will now appear in external calendars using the iCal.
Printed workouts have been cleaned up in order to look better.
Fixed issue where the uploaded device file is not immediately available for viewing, although it is attached and all stats are present.
Fixed issue where the public file viewer was always displaying in metric even after logging in.
Fixed issue where workout attachment were lost when copying and pasting workouts on the calendar.
Fixed issue where tooltips were not always being displayed on the Peaks charts.
More Dashboard Chart Average functionality. You can now turn on and off the display of the average lines for dashboard charts that support this feature; the TSS/IF chart now shows averages for both values; and the average value is shown in the tooltip when you hover over the line.
Fixed issue with the cursor jumping locations when typing, or pasting text, in the Quick View's  description and comment fields.
Fixed issue where the Dashboard's Metrics chart would display incorrectly in some instances.
Fixed issue when copying and pasting multiple workouts on the calendar
Fixed display issues with the zone overlay in the file viewer
Fixed a text formatting issue in the Quick View description and comments.
The options on the Expando Laps & Splits chart no longer disappear after changing the settings.
A system time-out no longer occurs when uploading large activity files.
Events added from the web app now display as read-only in the mobile apps (editing is coming)
You can now control workout compliance coloring in the activity feed. The mobile apps share the same setting as the web-app, so you will always be in sync.
You can now change the units for individual event legs as well as delete legs from an event.
Links and URLs in the Quick View are now clickable and will open the link in a new window.
Coaches can now clone a training plan that has been shared to them without edit permission.
The Peak Pace by Distance chart has been added as an option in the workout Expand view.
Forums have been retired.
Coaches will now have a confirmation notification when applying/unapplying and/or sharing/un-sharing a Training Plan.
Athletes and Coaches can now switch between distance units for their Events in the Quick View.
Coaches can now view shared training plans, who a training plan is shared with (as well as un-share) and share a training plan directly to any athlete in their athlete library.
Athletes and Coaches can now filter their Workout Library by Sport Type.
The Peak Cadence chart is now available in the Quick View Expando chart library.
Coaches can now view Training Plan Sales from their Account Management screen.
Athletes and Coaches can now turn off (turn on) Workout Compliance on the calendar.
Workout Libraries can now be sorted by Sport Type and by Workout Code.
Athletes can now apply a Training Plan to their calendar by dragging the training plan from their Plan Library and dropping onto the calendar.
Basic workout information for Structured Workouts is now editable.
Coaches can now view their Training Plan sales from their Account Management page.
Coach invoices on the Account Management page will now display dollar amounts for monthly payments, along with Client days.