May Updates: HTML5 Activity Viewer, Comment Stream, Peak Distances and More
This month brings several new features to TrainingPeaks and we've got some great stuff for both athletes and coaches. I am particularly excited about this month's update because it demonstrates the beginning of our efforts to transition from Flash to HTML5. As I have said in a past blog post, we will continue to make investments in new features within our main Flash app as a prototype of future enhancments, but we're going to start making the transition to HTML5 soon. As in now. So let's get to the good stuff!
HTML5 Activity Viewer
When we started out porting our popular activity viewer from Flash to HTML5, we knew we didn't want to compromise. We didn't want something that just looked good, but wasn't analytically functional. We needed to build something that allowed for killer analysis, and looked amazing. We've never been in the business of putting out watered-down tools – we aim to bring all the steak and sizzle that our customers expect. The end result was the most functional activity viewer on the Web.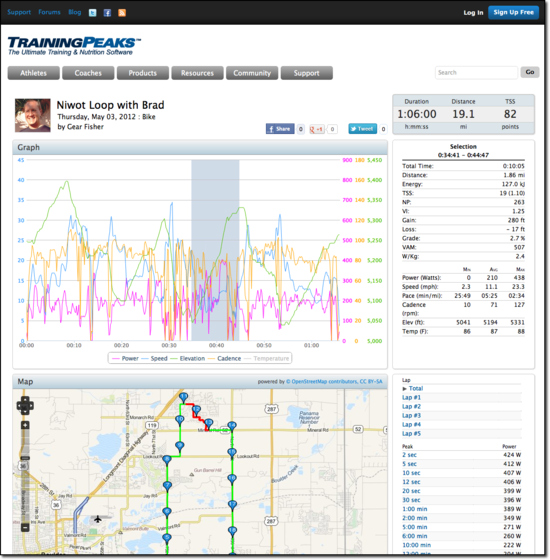 On our HTML5 activity viewer you can see laps and peaks for the workout, select segments on the graph to get a full set of stats, and share your activity on Facebook and Twitter. We also added a cool social feature: the ability to add public comments to any activity using the Facebook Comment plug-in. Our activity viewer works beautifully on iPhone, iPad, Android and of course on Mac and PC. We'll be featuring several stages from the Amgen Tour of California and the Giro d'Italia this month, so stay tuned for some great insight into what makes the pros pro. Be sure to leave comments and kudos for the pros, they love seeing your feedback!
Note that we are rolling out the HTML5 activity viewer in limited amounts, so you'll only see it if you are viewing a shared activity from a non-Flash compatible browser (such as iPhone). If you want though, you can edit the URL of any shared workout and change the "sw" in the URL to "av" to see the new version.
We have a lot more HTML5 goodness in store, so I mean it when I say this is just the beginning. We'll be undergoing the transition for quite a while, but it's the first step in that direction.
Post-Activity Comment Stream
Ok, finally, I can check this one off my list.  We get frequent feedback from coaches about the inability of our system to leave comments on a workout after an athlete has made a comment of their own.  Well, we now have a fully functional comment stream, and it's available in the main app as well as our mobile friendly site. The new comment stream is dead simple: we simply tag each comment with the date and name of the person making the comment.  Now, coaches and athletes can have a comment stream all saved within the context of a workout.
Coach's Tip: Client communication entirely through your smartphone
It gets better. The comment stream, combined with our new post-activity notification email and the new HTML5 activity viewer, enables a whole new workflow between coaches and athletes.  I'll describe a typical workflow for a coach:
Sunday night, you fire up TrainingPeaks.com on your laptop. You've got your main computer, a big external monitor, and  you use all that screen real estate in a power planning session with our Coach Edition. You plan out all your client schedules for the week with our simple drag and drop calendar and your custom built workout libraries.  Boom, hard work is done, schedules are in. Off to bed.
The rest of the week, as your athletes complete their workouts, you receive post-workout email notifications with summary stats included, along with a link to each activity's public viewer. You check the email on your phone, click the link to view the workout, then hit the "reply" link that takes you to our mobile website, where you log some comments back to your client, specific to how that workout went.
The athlete then receives a notification email of your comments, and they repeat the process by replying through the mobile site to your comments. Did you catch that? The communication with your clients happens entirely on your smartphone! You can keep tabs on your clients all via email and our mobile web app.  I really think these changes will dramatically affect your ability to service your clients. Note that the notifications are only available for your Premium clients, but the comment stream itself is available to all clients. And yes, your client can change their email settings and turn off the notifications if they choose.
Peak Distances
File this one under "should have had this 10 years ago" also.  It took a while, but we now show some great data for run workouts/races: peaks by distance!  You can see your peak pace by distance when looking at the File Viewer in the app. Stay tuned for more ways to use these on the Dashboard in upcoming updates.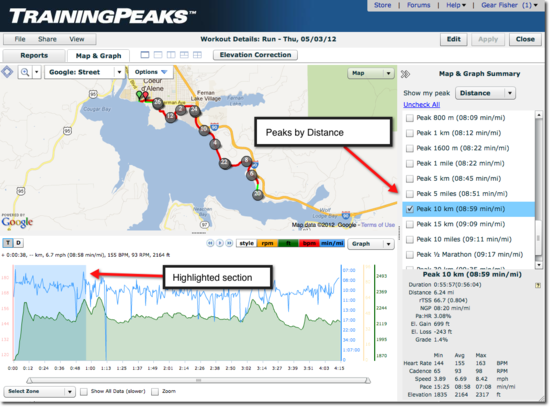 Planned stats now available in workout templates
Last month, we updated the QuickView interface and added 7 more planned data fields. Previously, we only allowed you to have a planned distance or duration; last month we added planned TSS, IF, Calories, Energy, Speed, Pace and Elevation Gain. This month, we allow you to add all those planned stats to your workout templates, and then store them in your workout library to be used again and again:
When you build a workout template and drag it onto the calendar, it will now pre-populate every planned stat automatically.  Likewise, if you are on the Calendar, and you save a workout to your Library, it will save with all planned stats. A huge time saver for scheduling workouts that you repeat regularly, such as recovery days.
Wrapping up
We've made a few other more subtle changes, some UI tweaks and a host of bug fixes. Stay tuned next week during the Tour of California for some great shared racing data, and as always, look for more new features next month. Some big things are in store. If you have any questions or comments, don't hesitate to reach out to our support team and check our what's new page for the full list of new features.
Thanks!
-Gear