Archived: Leave it on the Road: Riding Across the U.S. for a Cause
If you consider yourself a serious cyclist, the idea of one day riding across the country is likely to have crossed your mind at some point. However, for most the leap from conception to accomplishment remains unbridged, as the challenge can seem nearly insurmountable to most "normal" people.
This was not the case from Andrew Hudon and his best friend Michael Tabtabai. In less than two weeks, self proclaimed "average guys" Drew and Mike will ride 3,450 miles over 23-days from Oregon to Massachusetts, raising money and awareness for the Colon Club and Colon Cancer Alliance.
The ongoing fight against cancer hits home for both young men. Mike's father battled bladder, breast and colon cancer for 11 years; Drew's mother survived cancer several years ago. When Mike's dad passed away last year, the two came up with the idea to take on the biggest challenge of their lives to date – to ride across the country in remembrance of those that have both won and lost the battle to cancer, to "take the pain and anguish that cancer has brought and leave it on the road."
We had the pleasure of meeting Drew when he dropped by our offices this spring to say hi to a fellow Boulder neighbor and to tell us the story about Leave it on the Road, which is supported by sponsors including Rapha, Skratch Labs and Retul. We found Drew's positive attitude infectious, and his message inspiring: that he and Mike were really just a couple of regular guys, and that with preparation and motivation anyone can do what they're planning on doing. So, we caught up with the guys and their coach Aidan Charles in the final few weeks before their ride starts on June 17 and asked them to share their story with the TrainingPeaks community.
Their ride is for the millions of families and individuals who have been affected by cancer. Their story is for anyone who's ever dreamt of doing something big and something good, by riding a bike.
TrainingPeaks: Tell us a bit about your athletic background. When and how did you get into cycling?
Mike: I first got into cycling in my mid-twenties. Drew likes to rub it in because I actually used to make fun of him on vacations for going off for hours by himself when he could have been enjoying a beer by the lake. But once I bought my first road bike, I was hooked. I progressed pretty quickly from doing daily rides for fitness to doing charity rides and centuries to training and competing in road and track races. For a while I was focused on my career and though I was riding as much as possible, I simply didn't have the time to train for races. I struggled with keeping fitness up and weight down. It's been really helpful to have our coach Aidan on board to help me prioritize and plan my training to get the most out of the time I have available. After the ride, I'm looking forward to getting back into racing.
Drew: Cycling was a sort of progression for me. I was a speedskater in high school, along with soccer and track, and I came into road biking as a form of cross training. As I progressed through high school and college, it slowly became more of the focus of my athletic endeavours. It's always been there in one form or another, whether it be road racing, riding for cancer, or triathlon. By far though, the rides I have done for cancer have meant more to me than any podium I have stood on in my racing career. It's amazing to me that ordinary guys like Mike and I can make a difference in the world just from riding our bikes. It's funny too, I can remember as a 14-year old kid standing in a bike shop in my hometown admiring a Klein Quantum Z, probably with a 7 speed drivetrain, and thinking how cool it would be to one day ride a bike like that across the country. I figured if I got in really good shape maybe I could manage 75 miles a day or so. I laugh now as, 20 years later, I am just days away from setting out on a much nicer bike to cover twice that daily distance on a ride I have dreamed about for two decades.
TrainingPeaks: Reading your website, we know your inspiring and moving story. But what makes the bike – and the distance – your "vehicle of choice" for delivering your message of cancer awareness and prevention?
Mike: When my father was diagnosed with cancer I was looking for some small way to feel like I was making a contribution towards fighting it. I'm not a doctor like my siblings, but I did have a bike and I enjoyed riding it. My first century ride was a fundraiser for the hospital my dad was being treated in – they do one every year in Connecticut. Pushing myself to suffer for 100 miles was a challenge that I felt I could be proud of, and I was also able to raise some funds for that cause which was close to my heart. And once I had accomplished that, I looked for more rides to do, and eventually joined Andrew on his self-organized events. Now we've elevated the challenge to crossing the US, which to me is an accomplishment on a scale that feels big and challenging enough to celebrate my father's life. He lost his battle with cancer a year ago, and we have been planning this ride ever since.
Drew: Similar to Mike, my motivation goes back to my mother's struggle with cancer. To me, the bike was my way of fighting back against an invisible enemy. It was a way to overcome the helpless feeling of watching her go through her battle. To me, pushing your body the way we do, doing something physical against some pretty tough odds, is our way of relating to what our loved ones have gone through with the disease. The first few rides for me were about healing myself as well as honoring my mother's successful battle. When she was diagnosed, my worst fear was losing her. After Mike's father passed, I wanted to help him have that same healing experience. My goal on this ride is to be there to support him on and off the bike and to have a great adventure together along the way.
TrainingPeaks: Let's talk about a bit about the training. Aidan, how exactly do you prepare someone to ride 3500 miles in 23 days? Let's talk about the workouts you have Michael & Andrew doing, and what their weekly volume looks like.
Aidan: Hmmm, that's a wide open question! It really depends a lot on an athlete's history. There are 3 major components that dictate an athlete's training regimen with me.
The first is their history. Drew has had experience with ultra-endurance events before [in 2010, Drew rode a similar route from Boulder, CO to New York also to raise funds and awareness for cancer], where this is Mike's first foray into an event like this. That mental and physical experience goes a long way in dictating how they prepare going forward. For many cyclists, a lot of things happen on the first time they do back-to-back 100-plus mile riding days. It can be a mental, physical and even emotional roller coaster! Making sure that an athlete builds up to major back-to-back endurance days with confidence is the key. Pushing the riding volume and training stress up too quickly, and making someone go beyond their capable of accomplishing well, risks them having a bad experience and shattering their confidence, setting them up for a tough ride going forward.
The second consideration is schedule. An athlete's schedule is a huge determining factor. Drew had a jam packed schedule between school and work, and Mike has had relatively sporadic last minute business trips that have popped up. For these two in their "real life" (balancing work, school, or family commitments), training typically tends to be shorter during the week and longer on the weekend. We focus more on some of the skills and attributes that can be trained in a shorter amount of time during our shorter sessions throughout the week (VO2 and LT intensity work, motor-unit recruitment, and force development exercises) and then focus on higher volume and higher overall physical stress during the weekend (fat metabolism rides, building up to 4000+ kilojoule training days, and aerobic/tempo rides).
See a sample week in Drew and Mike's training schedule below.
TrainingPeaks: One might assume that for a long ride like this, it will be all long, slow distance rides. I'm guessing this is not true. How does intensity play a role in Drew and Mike's training?
Aidan: Well it actually is mostly true! Long slow distance rides are almost irreplaceable in preparation for a ride like this. Training your body how to rely on fats as fuel, to spare carbohydrates, plays a huge role in an athlete's endurance. The best way to train one's body to rely on fats as fuel during exercise is through those long slow distance rides (the proper intensity is key for these). You can also train your body to rely on fats through some fueling and other training techniques, but these really come secondary to the actual riding!
Of course, intensity plays a key role in helping us establish a higher level of cardiovascular output and strength. We'll use VO2, Lactate Threshold intensity, and Muscular Strengthening intervals in hopes of stimulating and condensing some of the muscular stress Mike and Drew will experience out on their longer back to back rides. VO2 intensity intervals help in two ways. First, they help strengthen performance of the central cardiovascular system, which allows the heart and lungs to pick up and deliver more oxygen to your peripheral system (your blood, capillaries, and mitochondria in your legs). This can lead to a higher overall level of cardiovascular capacity and performance. Besides higher levels of peak cardiovascular output, VO2 intensity also help prepare them from an endurance standpoint as well. For example, they may never go out and spend 12-15 minutes in their VO2 zones on any given day during their long ride across the country, but because intensity is much more physically taxing (higher levels of torque and muscular strain), it will help prepare their tendons and ligaments for the physical wear and tear of the longer, more moderate intensity rides.
TrainingPeaks: Drew, you're a busy guy, finishing up your executive MBA, transitioning a full-time career from R&D to marketing at a major healthcare company, and training 15 to 20 hours a week. How do you fit it all in and balance training with your life and "non-bike related" goals?
Drew: It has definitely been a challenge. There have been periods where I've been working fifty hours, riding 20, studying 15, and putting 10-15 into organizing and promoting the ride. First and foremost, there is no way I could have done this without the tremendous support I get from my wife. She has made huge sacrifices for me to live out this dream. While I've been balancing studying, work, and training, she's been picking up my slack and balancing it with her own work and training (she's a runner). She's always remained positive and has kept me motivated to train. She's even set up her trainer next to mine to keep me company on long winter rides in the basement. We've put a lot of things on hold (house projects, camping trips, etc.) until after the ride.
Mike and I have also worked together really well, taking the heavy share of the workload from one another when our schedules allow. Also, having Aidan as a coach is a huge blessing. When you know that every week someone else is going to be laying out a training plan for you and you have confidence that plan will get you where you need to be, it's not only a huge weight off your shoulders, but it saves you the time of having to think about your own training. Aidan is also really good at what he does, so he knows how to maximize the efficiency of our training so there are no wasted workouts or intervals. He also keeps the plans flexible enough and makes himself available to adjust them when things do come up in our schedules.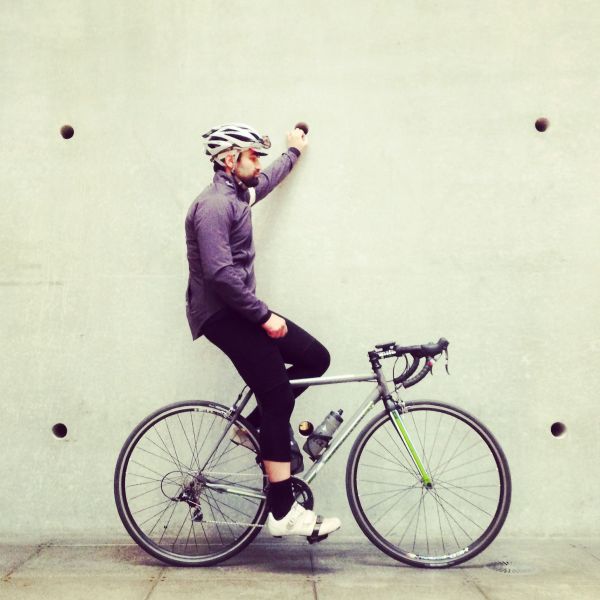 TrainingPeaks: Your training must take you on some pretty long, epic rides. What's the funniest, weirdest or most memorable thing that's happened to you or that you've seen on a training ride thus far?
Mike: As the rides get longer, you have to prepare yourself for anything. In Portland [where Mike lives and trains], that is especially true of the weather. I've done rides where I seem to have ridden through all four seasons, seeing a mix of warmth, rain, sleet, snow and back to warm again. And I've had rides that begin hot and sunny and end up being twenty degrees cooler and sleeting just a few hours later. There have been a few rides that were so crazy that I don't know if I would have been able to do them on my own. As a close friend of mine and cycling mentor says "good company beats bad weather". I definitely found that to be true this past winter.
Drew: One of the cool things about training in Boulder [where Drew is based] is all the pros that are around. Before the Tour of California it seemed like everyone was in town. I was passed by Timmy Duggan, Ted King, and Lucas Euser all in one ride. This past weekend I was passed by Tejay Van Garderen on the way up Lefthand Canyon and then saw him at the spring up near Ward. I got to chat with him for a couple of minutes while we filled water bottles. I tell my non-cycling friends that would be like Tiger Woods showing up at the tee next to them.
TrainingPeaks: For Drew, this will not be your first ultradistance cycling event, having completed your Resilience Ride from Colorado to New York a few years ago. Mike, you rode with Drew for part of his Resilience Ride too so you have some idea of what to expect. How do you two plan to get yourself over those inevitable tough moments that will come up in the 23 days on the bike?
Drew: It definitely gets tough. There are a lot of things working against you. As the ride goes on, you are not only physically exhausted, but sleep-deprived and mentally worn out as well. In previous rides I've done as much as a week solo, and it can get lonely out there I can remember singing out loud thinking I was in the middle of nowhere in Illinois in 2010, only to look up and see a farmer standing in a field easily within earshot! Oh, and I should mention that I'm a TERRIBLE singer.
There are inevitably bad days when you just want to quit. Those are the days I have to remember why we are riding and for whom. When I think about all the survivors I've gotten to know through previous rides, and remember those who have fought to the very end, I remember that they didn't choose to battle cancer, it chose them, and they never gave up. If they didn't give up, neither will I. Having a teammate who shares that same passion for the cause is going to be huge this time around.
Mike: One thing I've tried to work on lately is my mental toughness. During the process of training for this ride I've pushed up against my limits more than once, and I know it is going to happen again when we are out there doing 140 miles per day. The more you go deep, however, the more you know you can recover and come back from those depths. I've learned to be prepared for any challenge, bring the right gear for many situations, and most importantly to carry a positive attitude. Endurance challenges are just as much mental as they are physical. And I've had more "mental toughness" training sessions in the last year of training than I have in the previous ten years I'd been riding. I think that will help during the difficult moments on our ride, and I hope to be able to just remain positive and remember all the things that have inspired me to get this far. It's a huge gift to have the support of so many people and to have the opportunity to ride across the US and I don't want to squander it, I want to celebrate it.
TrainingPeaks: What would you say to someone who wants to accomplish something similar to LIOTR – an ultradistance ride for a cause? If you could give 3 pieces of advice, training-related or not, what would they be?
Mike: I would advise talking to some people who have tackled a challenge like this before. It was helpful to me to have the experience of riding with Drew during the Resilience Ride in 2010, because I have a much better idea of the types of things you need to be prepared for. Collectively we experienced a lot of different types of challenges and we'd have a lot of practical advice to offer. Things like gear selection and logistics management are really important. Basically you want it set up so that when the time comes to do the ride, all you have to worry about is riding and recovering. You've already done the legwork on everything else. And if you're taking the challenge with a friend, it really helps to divide up the work. Andrew and I have very different backgrounds and skill sets, and that has allowed us to take on different responsibilities, focus on what we're good at, and follow through on our goals.
Drew: Know yourself. Know what your strengths are. Know your weaknesses. If you identify these, you can either work to build on your weaknesses, or find someone to help in those areas. Mike and I are strong in different areas, and we each work to our strengths to maximize our impact as a team (this is actually true both on and off the bike). Also, I would recommend starting with a smaller ride to test the waters and build some credibility before going after something like this. Lastly, it is hard to over-prepare. Study the logistics and route to the most minute detail. Plan out as much as you possibly can. That said, be prepared to be flexible. Construction, weather, sickness, and mechanical issues can all throw off your plans, and it is crucial to be able to adapt and improvise as things come up. But again, the more you have prepared and thought about potential problems, the better prepared you'll be to adapt to them.
Mike and Drew depart from Seaside, OR on June 17. To follow along with their progress and to see their daily TrainingPeaks files during their ride, visit www.leaveitontheroad.com. To donate to their cause, visit their fundraising page on the Colon Cancer Alliance website.