Archived: Five Things You Never Knew About WKO+
WKO+ is our powerful desktop analysis software that takes the data from your power meter and helps you translate it into the best training and racing strategy for you. And if you're a coach, WKO+ will give you cutting-edge analysis tools to analyze your clients' power data. Already a WKO+ user?
Here are five things you never knew you could do in WKO+.
1. Secret Clicking in the Legend!
If you open your graph page and in the vertical legend, double LEFT click on a number, it will open the "properties for" that metric. There you can adjust between the scaling on the graph, the metric view themselves and create a gridline. Click the "white" box in order to manually create a grid line. If you double–right click on a number in the legend, then you quickly turn off that channel. For example, if you don't want to see the "temperature" in your graph, then just double RIGHT click on a temperature number and it will disappear!
2. Refocus your Quadrant Analysis.
By double clicking inside the Quadrant Analysis chart you can refocus the data. Double click to get the view you want.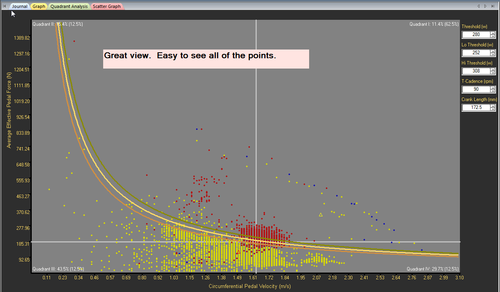 3. Link your ranges together and rename them easily.
This one is a great time saver. First off, mark your ranges, but resist the urge to name them. Just create them and hit "Enter". You will have a screenshot like the one below.
Now, click on the first range at the top of the "ranges" bar. Then click on the "empty box" to "link" them together. You will see the little chain link come up for each and the name will change.
For the last step double-LEFT click on the first range at the top and re-name it, then hit Enter. Magically, all of the ranges will be re-named.
4. Linked ranges make for easy MFRA (multi-range overlays).
Now that you have all your ranges linked, just right click on them and select > "Create new Multi-file/Range Analysis".
Now, just say "OK" and your Multi-Range Analysis will appear!
5. Manage categories of athletes.
I like to create a new category for different groups of people in WKO+. When I have a training camp, I'll put riders in the "Camps" category. For my current Athletes, I have them all in a "Current Clients" category. Under the >Athletes< menu, click the "Manage Categories" button to make this happen.
And for those of you about to comment, yes, we're working on a Mac compatible version! Read more about WKO+ 4.0.