Archived: 2013 Tour de France Week 2 Power Analysis
Stage 8 – Castres to AX 3 Domaines – 195 km
Romain Sicard (Euskaltel-Euskadi) – 110th – 5:32:20
View Romain Sicard's SRM data in TrainingPeaks.
The Tour hits the Pyrenees and the peloton explodes. Often times the first day a Grand Tour turns to the mountains, many riders struggle to find their climbing legs. Today Team Sky decimated the field and many GC contenders when stage winner Chris Froome and Richie Porte (both of Team Sky) rode away from everyone on the on the first real climbing day of the Tour. Sicard hit his 20-minute peak power on the upper half of the first climb of the day, the first climb in the Pyrenees, and the highest climb in the 2013 Tour, the Col de Pailhères. He averaged 303 watts (5 w/kg) with a Normalized Power of 314. He was not far from his threshold power of 328 watts.
On the final climb to the finish (Ax 3 Domaines), Sicard averaged 243 watts (4 w/kg) for 35 minutes and as impressive as this is, by the the time he crossed the finish line at the summit, he gave up nearly 30 minutes to stage winner Froome.
Early attacks from the gun. Sicard hit his 30 second peak power for the stage less than 20 minutes after the start, likely when the early break was trying to get established. He averaged 467 watts (4.7 w/kg), spinning at 89 rpms.
Stage 9 – Saint-Girons to Bagnéres-de-Bigorre – 168.5 km
David Lopez (Team Sky) – 166th – 5:09:23
View David Lopez's SRM data in TrainingPeaks.
Lopez set his 20 min peak speed on the final descent (La Hourquette d' Ancizan), averaging 61.7 kph (38 mph) in a group of 45 riders. That's blazing fast, but the group was still nearly 30 minutes behind stage winner Daniel Martin (Garmin-Sharp).
Categorized climbs. When analyzing files and noting various climbs, we usually mark the climb as listed on the stage profile, not necessarily the entire climb. For example, the first climb on today's stage was the Col de Portet-d'Aspet. The categorized portion of the climb was 5.4km which took Lopez 16 minutes, while he averaged 365 watts (5.4 w/kg). However, Lopez (and the rest of the peloton) had been climbing since the start of the race, so the first summit actually came after climbing for about 50 minutes, averaging 330 watts covering 23 km. While just the "measured" effort of the climb is impressive, it is even more impressive when you consider that Lopez had already been climbing for 30 minutes.
Climbing the famed Col de Peyrasourde, Lopez ascended 939 meters – the equivalent of 3 Eiffel Towers stacked on top of each other. It took Lopez 45 minutes to climb Col de Peyrasourde and he averaged 278 watts (4.1 w/kg) during the effort.
Gunning for Team Sky. Stage 9 was action- and intensity-packed from the moment the flag dropped. Domestique Lopez spent his energy on the early assaults, hitting new peak power values for 30 seconds (582W, 8.6 w/kg), 10 minutes (395W, 5.8 w/kg), 30 minutes (360W, 5.3 w/kg), 1 hour (327W, 4.8 w/kg), 90 minutes (305W, 4.5 w/kg) and 3 hours (269W, 4 w/kg) for the Tour to date all in the first half of the stage!
Stage 10 – Saint-Gildas-des-Bois to Saint-Malo – 197 km
David Lopez (Team Sky) – 176th – 4:59:48
View David Lopez's SRM data in TrainingPeaks.
Back to the flats and the sprinters have another crack at the stage win. Stage 10 left the mountains and the riders raced a flat, fast stage with top sprinter Marcel Kittel (Team Argos-Shimano) taking the win. Lopez's average speed on Stage 9 was 31.9 kph (19.8 mph), the last mountain stage before the rest day. In contrast, today his average speed was 39.1 kph (24.2 mph)!
His average heart rate for five hours of racing was 132 bpm. Lopez's threshold heart rate is 159, so he spent most of the race at about 83% of threshold. This is what many people refer to as a "Tempo" effort. Tempo is generally considered an aerobic effort, hard but not too hard. You could speak in full sentences but you would measure your words. That equates to about 39,500 heart beats during the stage.
Lopez will need to be ready to help team leader Chris Froome when the race returns to the mountains so today was all about conserving energy for the battles to come. With a 30-minute peak power of 249 watts (3.7 w/kg), Lopez was nowhere near his threshold power of 395 watts (5.8 w/kg). 392 watts was his 2-minute peak power for the stage, so this was the longest he rode at his threshold or 60-minute maximum power.
Stage 11 – Individual Time Trial: Avranches to Mont-Saint-Michel – 33 km
Juan Antonio Flecha Giannoni (Vacansoleil-DCM) – 46th – 39:40
View Juan Antonion Flecha's PowerTap data in TrainingPeaks.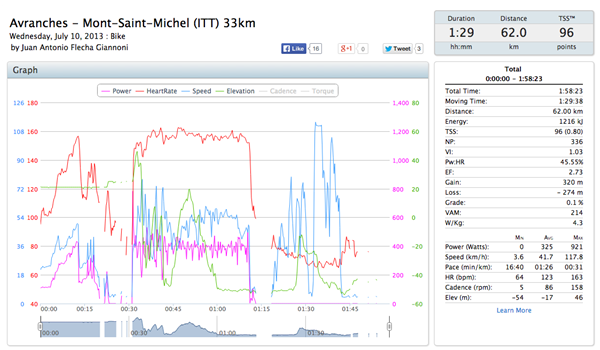 Riding with the best of the best: Flecha averaged 49.6 kph (30.8 mph) generating an average of 391 watts (5.6 w/kg) for just under 40 minutes and this earned him 46th place out of 182 riders. Current world time trial champion Tony Martin (Omega Pharma-Quick Step) won the race finishing 3:11 faster than Flecha.
Hard effort but not full gas: With a threshold power of 420 watts (6 w/kg), Flecha was not quite at a maximum effort but will still working hard. After ten stages, there is definitely some fatigue in the legs and also, a one-day specialist such as Flecha is likely saving just a little in the tank in the hopes of going for a stage win in the remaining stages.
Excellent pacing: Flecha is a seasoned professional racing his 10th Tour de France – in other words, he knows how to time trial. This is evident in his data by looking at a couple of key metrics like Average Power vs. Normalized Power (NP): 391 vs. 398, respectively, or his Variability Index which is Normalized Power divided by Average Power. A VI of 1.0 indicates perfectly "smooth" power output. The fact that Flecha's NP and Average Power were very similar indicates a steady, consistent effort. His VI of 1.02 shows that Flecha had very few surges and did a great job pacing himself.
Stage 12 – Fougéres to Tours – 218 km
Romain Sicard (Euskaltel-Euskadi) – 170th – 4:53:50
View Romain Sicard's SRM data in TrainingPeaks.
As usual, an early breakaway of five was formed and Sicard along with Francesco Gavazzi (Astana), Manuele Mori (Lampre-Merida), Juan Antonio Flecha (Vacansoleil-DCM), and Anthony Delaplace (Sojasun) were allowed to gain a maximum of 9 minutes before the sprinters' teams decided it was time to reel them in. For the majority of the stage, the average pace was 45 kph (28 mph) or faster and Sicard was the first of the quintet to be caught with 43 km to go. Sicard set peak power values for the entire Tour to date from 6 minutes (394 watts, 6.5 w/kg) through 3 hours (282 watts, 4.6 w/kg)!
First half vs. second half: Sicard spent a lot more energy during the first half of the stage and it eventually took its toll when he was the first rider to surrender to the hard chasing peloton. First half: 2557 kJs, 285 Average Watts (4.7 w/kg), 308 Normalized Power (NP), 95 rpm average cadence. Second half: 1922 kJs, 224 Average Watts (3.7 w/kg), 250 NP, 90 rpms average cadence.
Sicard burned 4484 calories today in this massive effort – the equivalent of just under 3 pounds of Brie cheese!
Sicard hit his 5-minute peak power for the stage in the first few minutes of the race, getting the break established and increasing the gap to the peloton. He averaged 401 watts (6.6 w/kg).
Stage 13 – Tours to Saint-Amand-Montrond – 173 km
Greg Henderson (Lotto-Belisol) – 166 th – 3:53:44
View Greg Henderson's SRM data in TrainingPeaks.
Henderson worked the hardest during the middle of the race, about 90 minutes into the stage, setting peak power values not only for the stage but the entire Tour to date ranging from 6 minutes to 60 minutes. 6-minute peak power: 416 watts, 5.6 w/kg. 60-minute peak power: 317, 4.5 w/kg.
We often see riders getting cans of Coke during the stages. Not only does it taste good on a hot day but the sugar and caffeine also give the rider a quick energy boost. Henderson burned just over 3700 kJs during the stage – or the equivalent of 27 cans of Coca-Cola.
Threshold effort: Henderson's 10-minute peak power for the day was pretty close to his threshold power of 390 watts. His 10-minute peak power was 385 watts (5.5 w/kg) spinning at an average of 94 rpms and cruising at 48.3 kph (30 mph).
Stage 14 – Saint-Pourçain-sur-Sioule to Lyon – 191 km
Greg Henderson (Lotto-Belisol) – 157 th – 4:22:28
View Greg Henderson's SRM data in TrainingPeaks.
Fast and aggressive from the gun. Knowing this was the last stage before the GC contenders take over, many riders were trying to get in the early breakaway making for a very fast and hard first hour of racing. Henderson set his peak power values for 30 seconds (648 watts, 9.3 w/kg), 1 minute (520 watts, 7.4 w/kg), and 2 minutes 480 watts, 6.9 w/kg) all in the first hour of racing.
No Fear! Despite being involved in a nasty crash in the final kilometers in Stage 12 that resulted in stitches in his elbow, Henderson showed no signs of fear or hesitation during Stage 14. Riding in the main group (about 150 riders) he hit a top speed of 93 kph (57.8 mph) on one of the descents.
Another way to judge how erratic or aggressive a race was is to compare Normalized Power to Average Watts. The closer the two numbers, the more steady or less erratic the race. Today, Henderson had an overall NP of 312 watts vs. Average Wattage of 242 for the stage. That is a very significant difference, telling us the stage was filled with attacks, surges, and hard efforts.