2012 Tour de France Week 2 Power Analysis
Stage 7 – Tomblaine to La Plance des Belles Filles 199km
Janez Brajkovic (Team Astana)
View Janez's full power file here.
271 TSS / 266 Normalized Power / 3959 kj / 124 BPM Average
Brajkovic finished 8th, just 46 seconds behind stage winner Chris Froome (Team Sky).
On the final climb of the day Brajkovic rode for 17 minutes at 5.8 watts/kg, 351watts.
Stage 8 – Belfort to Porrentrury 157.5km
Chris Anker Sørensen (Team Saxo Tinkoff)
See Chris' full file here.
341 TSS / 283 Average Power / 334 Normalized Power / 2039kj
Sørensen's vertical climbing speed was 1248 VAM (5.8w/kg) for Peak 20 minute Power. He averaged 4.4 w/kg for the entire stage.
He also set his peak 1 minute power value of 587 watts.
Stage 8 produced the highest power values for Sørensen between 10 min and 3 hours.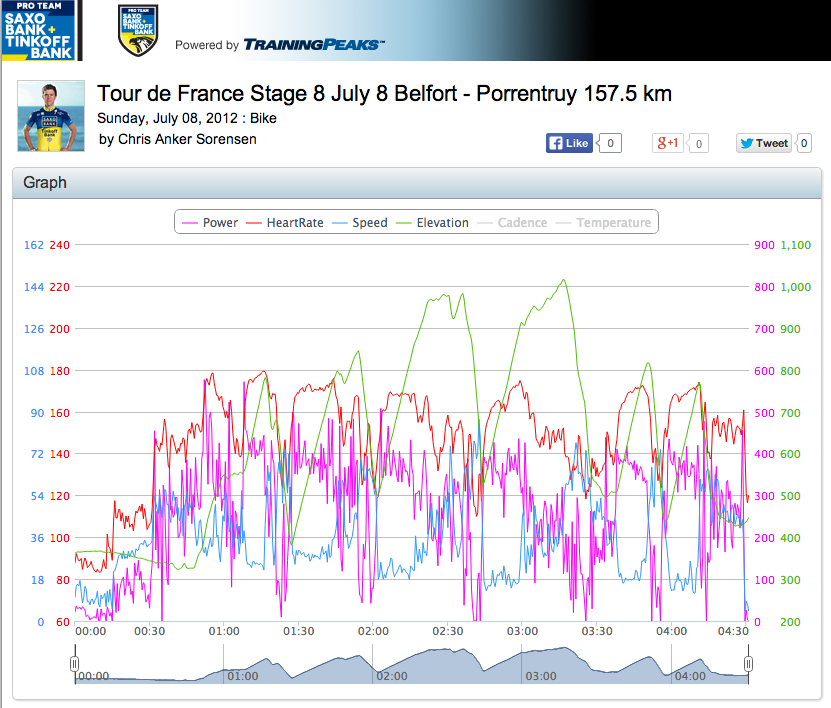 Stage 9 – Arc-et-Senans to Besançon 41.5km
Janez Brajkovic (Team Astana)
See Janez's full file here.
358 Average Power / 366 Normalized Power / 45.4km Average Speed / VI 1.02
The nearly 1 hour time trial is a good indication of Brajkovic's Functional Threshold Power (FTP) of 358w.
Bajkovic is an experienced and successful time trialer and paced his effort well. He averaged 366 watts for the first half of the ride and 351 for the second half.
His peak 30 minute power of 367 watts was his peak value for the Tour to date.
The 1.02 VI indicates a very smooth power output. VI is calculated as Normalized Power divided by Average Power and essentially measure how smooth a rider's output was.
Stage 10 – Macon to Bellegarde-sur-Valserine 194.5km
Bernhard Eisel (Team Sky)
See Berhnard's full file here.
362 TSS / 302 Average Power / 341 Normalized Power / 5846kj
Col du Grand Columbier (1501m) occurred 151km into the stage and was the toughest climb of the Tour so far. This was the first time it's been included in the Tour. Eisel averaged 322W and 15.6 kph for the 1 hour plus it took him.
Eisel set his 20 and 30 minute peak power values for the Tour so far in the first hour of this stage before any of the climbs! This was the fastest hour of racing in the Tour so far this year.
First hour 45.97 kph, 87.7 TSS, 389 Noramlize Power, 344 Average Power vs. last hour of 33.5 kph, 45.1 TSS, 279 Normalized Power, 236 Average Power. 
Stage 11 – Alberville to La Toussuire-Les Sybelles 148km
Janez Brajkovic (Team Astana)
See Janez's full power file here.
349 TSS / 268 Average Power / 307 Normalized Power / 4656kj
There were 4 Categorized climbs in the stage and Janez moved up from 13th to 8th overall with a strong 8th place on the stage. He spent more than 90 minutes above his threshold on the final climb of the day.
Brajkovic se his peak 10 minute power value on the first climb, the Col de la Madeleine, then he set his peak 60 minute power on the 2nd climb of hte day, the Col de la Croix de Fer.
Brajkovic attacked with 12km to go but the attack was doomed when Nibali bridged the gap a few minutes later. For the 10 miutes following the attack he averaged 361 watts (6 w/kg).
Stage 12 – Saint-Jean-de-Maurienne to Annonay Deavézieux 226km
Chris Anker Sørenesen (Team Saxo Tinkoff)
See Chris' full power file here.
313 TSS / 185 Average Power / 264 Normalized Power / 3884kj
From yesterday's shortest but hardest stage to today's longest stage. Stage 11 took it's toll and even though today was longer, is resulted in a lower TSS. Many riders still need a rest after yesterday's amazing stage.
Still, Sørensen tried for another breakaway during the first climb of the day, setting his peak 20 minute power of 363 watts.
Chris did NOT pedal for 25% of the stage today, a total of 1.5 hours! That is the most that he has coasted in any stage over the past 4 Tours.
The the last 6 minutes Chirs had to ride at this threshold in order to stick with the front riders as they raced to the finish.
Stage 13 Saint-Paul-Trois-Chateaux to Le Cap d'Agde 217km
Bernhard Eisel (Team Sky)
See Berhhard's file here.
296 TSS / 264 Average Power / 312 Normalized Power /  4987kj
His 20 peak power was attained during the crosswind section that blew apart the main peloton. Eisel fought for 15 minutes before getting dropped by the main group. As a support rider, Eisel has done his job for the day, before going into "conservation" mode.
This is his lowest TSS since the rest day but he still burned nearly 5000kj, or about 20 energy bars.